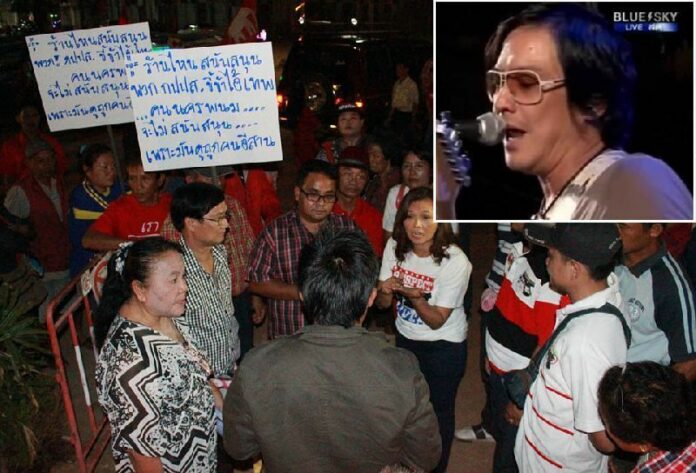 (27 February) Famous pop singer 'Jo Nuveau' is forced to cancel his scheduled performance due to pressure from the Redshirts protesters
The singer, whose real name is Mr. Jirayut Wattanasin, was slated to give performance at Tawanna 2004 pub-and-restaurant in Nakhon Panom province on 2 March.
However, a group of United Front of Democracy Against Dictatorship (UDD) supporters marched last night to the bar with over 30 vehicles and force the venue to cancel the concert.
Ms. Somsri Sommercon, a local UDD leader, said she is deeply angered by Mr. Jirayut′s support for the People′s Committee for Absolute Democracy With the King As Head of State (PCAD), which aims to oust Prime Minister Yingluck Shinawatra.
Furthermore, according to Ms. Somsri, Mr. Jirayut has made numerous remarks which insult the Redshirts movements and the poor across the country.
She also threatened to organise a large protest at the bar if its managers refuse to call off the concert on 2 March.
In front of the pub, the Redshirts held up signs denouncing Mr. Jirayut – one of them read "Nakhon Panom people don′t welcome any shop that supports the PCAD" – while their leaders gave speeches criticising the PCAD movements.
The pub′s manager, Mr. Pattanagorn Johjong, later emerged to negotiate with the protesters for around 30 minutes. He told the Redshirts that the management was genuinely unaware of Mr Jirayut′s political affiliation and willing to cancel the concert if the Redshirts insist.
Satisfied by Mr. Pattanagorn′s proposal, the Redshirts peacefully dispersed from the restaurant.
Previously on 24 February, a pro-PCAD singer, Mr. Pongsak "Off" Rattanapong, was also forcedtocalloff his scheduled performance at a bar in Chiang Mai province, after a group of Redshirts besieged the pub prior to his arrival.