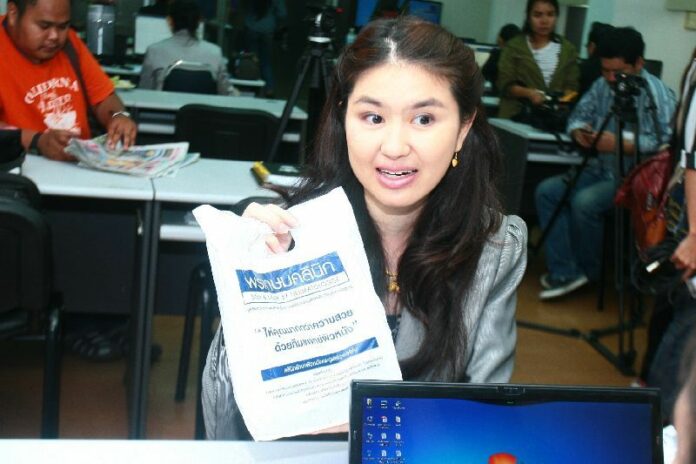 (27 February) Deputy spokeswoman of the Prime Minister Office has pressed charges against anti-government guards who had briefly detained her on 25 February.
Ms. Sunisa Lertpakawat was identified and captured by security guards of the People′s Committee for Absolute Democracy With the King As Head of State (PCAD) near their rally site in Pathumwan Intersection of Bangkok.
The guards were seen interrogating Ms. Sunisa at their headquarters tent before she was released and told to leave the protest site.
PCAD leaders have previously vowed to "arrest" top officials of the government in the bid to oust Prime Minister Yingluck Shinawatra and her Cabinet members.
Speaking to the police at Pathumwan Police Station today, Ms. Sunisa expressed her wish to press charge against the guards for illegal detention and physical intimidation.
Ms. Sunisa said she was visiting Pornkasem Clinic near the intersection for her dermatological conditions when the guards recognised her. The spokeswoman insisted she was not on a mission to spy on the protesters and she did not intend to provoke the PCAD demonstrators in anyway.
"I have to see my personal doctor who treats my skin," Ms. Sunisa told reporters, "If I didn′t go there, I would have to to the branch in Bang Kapi, which is very far from my residence".
Ms. Sunisa also claimed that she decided to visit the clinic in Pathumwan despite its close proximity to the protesters because PCAD leaders have repeatedly asserted that their rallies are peaceful and non-violent.
However, she said, her experience tells otherwise. According to Ms. Sunisa, a group of 20 PCAD guards stalked her shortly after she left the clinic and eventually mobbed her, some pulling her by the hair. The guards later escorted her for an interrogation.
"Let me stress that I didn′t intend to get close to the demonstrators and provoke them," Ms. Sunisa said, "I had to go because it was really necessary. Please give me some fairness".