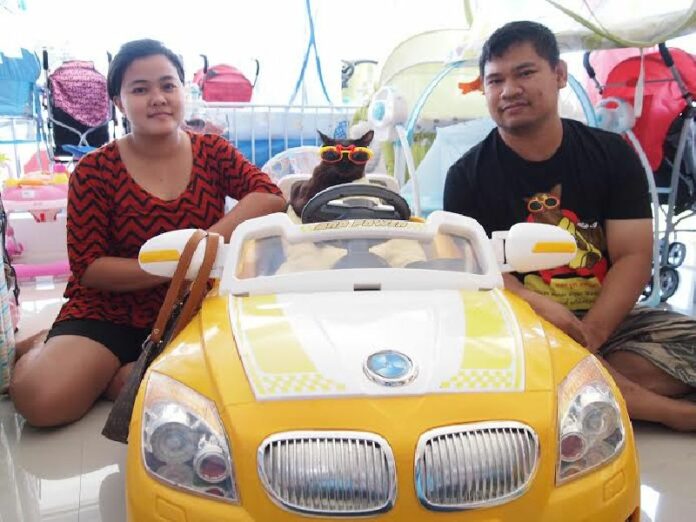 (10 March) He first rose to fame on the Internet when he appeared on a photo sitting in what looked like a private jet, wearing a mock monk's robe (made of yellow towel) and sunglasses, equipped with a Louis Vuitton bag.
The cat was instantly dubbed "Attamaew" (The Monk Cat), as he was widely seen as a parody of the notorious multi-millionaire monk Luang Phu Nen Kham who hit headlines in Thailand last year when a footage of him riding on a private jet with luxurious personal items such as Louis Vuitton bag emerged on the social media.
Attamaew, whose real name is Johnny, enjoyed much attention and a strong fan base in months afterward. He has gained 100,000 "likes" for his Facebook fan page, "Johnny the Supphalak Cat". He occasionally appeared in television shows, magazines, and has been named by a number of media outlets as one of the 12 most famous cats in the world.
The cat's latest high-profile appearance was when he visited the Bank of Agriculture and Agricultural Co-operatives (BAAC) in Ranong province to buy the government bond last month; the government of Prime Minister Yingluck Shinawatra was seeking the fund to pay farmers under the controversial rice-pledging scheme at the time.
Swadded in his trademark "monk robe" and duck-shaped sunglasses, Attamaew was greeted by Mr. Ekkasit Raksawong, the manager of the BAAC himself, who admitted to reporters that he is among other 100,000 followers of the cat on Facebook.
"It's the first time I met him," Mr. Ekkasit said, "He's very cute. I'm amazed at how Johnny can sit still longer than other cats".
He added, "It's a fortune for BACC to have welcomed such an important customer".
Other bank staffs were equally excited to have met Johnny in person. They also gifted him with a Piggy Bank for his interest in investing with BAAC. Johnny was later seen leaving the bank in the image of him driving away in a toy car.
The 8-year old chubby Supphalak-breed feline is described by his owners as a playful pet who enjoys eating, sleeping, hanging out and mimicking famous figures.
Both of his caretakers, Mr. Kriangkrai Suetrong, 33, and his wife, Ms. Sirintorn Jaturariyasat, 26, run a toddler clothes and toys store called "Tiggershop" in Mueang district of Ranong province.
"Johnny always gets his fans who wanted to take a picture with him", said Mr. Kriangkrai referring to the time when the popular cat visited Phuket province, "A local English newspaper even reported Johnny's visit".
"We had received many mails congratulate us for having over 100,000 followers", Mr. Kriangkrai added "and we sent Johnny printed sticker in return for their kindness."
However, Johnny is suffering from nephropathy, Mr. Kriangkrai said, and so he relies on dietaries such as special cat food and organic grass.
For comments, or corrections to this article please contact: [email protected]
You can also find Khaosod English on Twitter and Facebook
http://twitter.com/KhaosodEnglish
http://www.facebook.com/KhaosodEnglish