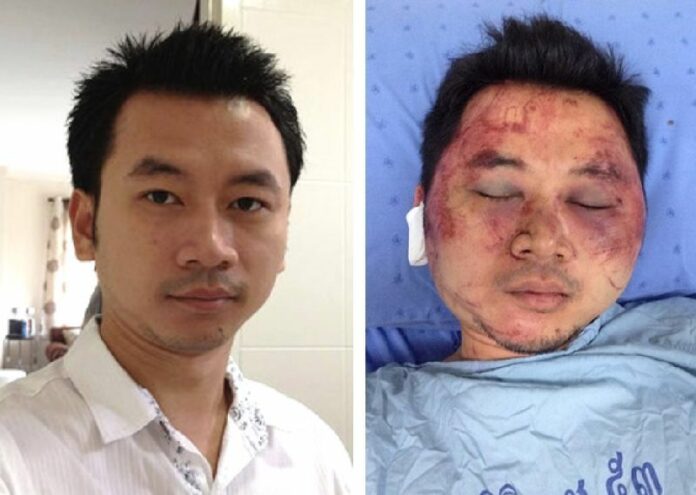 (10 March) The brother of a man who has been allegedly beaten by a group of anti-government protest guards has disputed the claims that he tried to attack the guards.
The incident reportedly took place on 8 March near the anti-government rally site on Chaeng Wattana Road, where supporters of the People's Committee for Absolue Democracy With the King As Head of State (PCAD) have been camping for weeks.
Accoring to a report in Thai Rath newspapers, the an individual on a vehicle attempted to approach the guards' checkpoint on Chaeng Wattana Road and opened fire, forcing some of the guards and Royal Thai Army soldiers stationed nearby to return fire.
After the gunfire exchange subsided, the guards reportedly captured the individual and searched his car. Thai Rath quoted a member of PCAD leaders as saying that the guards found a number of explosives on the vehicle, and named the person as Mr. Maroot Channual.
However, contacted by Khaosod, Mr. Maroot's brother disputed the PCAD's allegation and insisted that his brother was unarmed at the time.
According to Mr. Thammarat Channual, Mr. Maroot was attending a wedding reception hosted by one of his friends in Laksi distirct on the night of the incident. Afterh he left the party, Mr. Thammarat said, Mr. Maroot drove home via Chaeng Wattana Road, thinking he could drive through the protest site.
But Mr. Maroot soon reportedly encountered street cones erected by PCAD guards on the road. As the barricades were unmanned, Mr. Thammarat said in a phone interview, Mr. Maroot got out of his car and attempted to remove the barricades, which caused at least 5 guards to rush toward him and assault him severely.
Mr. Maroot was begging for mercy, even claiming that he personally admired PCAD leader Suthep Thaugsuban, but the guards would not listen, his brother said.
The man later reportedly woke up in hospital on the next morning. It is not clear who brought Mr. Maroot to the hospital.
Mr. Maroot is reported to have suffered severe injuries on his face, such as several broken bones and bleeding inside his eyes and ears. Blood was found in his urine samples. Medical workers refused to say whether Mr. Maroot's hearing and eyesight would be permanently affected by the wounds, and it is not clear whether Mr. Maroot would require facial surgery.
Medical workers have also retrieved a bullet from Mr. Maroot's leg, Mr. Thammarat said.
According to Mr. Thammarat, the guards also took away his brother's belongings, including an iPhone, a gold necklace, a ring, an amulet, and 5,000 baht in cash.
Mr. Thammarat vehemently denied reports that explosives were found inside Mr. Maroot's vehicle, insisting that his brother was not a part of any political movements.
"He criticised all politcial sides," Mr. Thammarat said, "My brother never has personal problems with anyone".
Mr. Thammarat also threatened to take legal action against anti-government critics on the social network who have been circulating allegations that Mr. Maroot was an armed agent paid by the Redshirts to attack the PCAD rally site. He said his family has already filed charge at a police station against the PCAD guards for their alleged assault on his brother.
"After the incident, no one takes any responsibility for what happened. The PCAD has not contacted me at all. Worse, they falsely implicated my brother in their press conference," Mr. Thammarat told our correspondent, "My family is very stressed at this moment. My parents can't sleep. My pregnant sister-in-laws is also very upset".
He added, "Everyone has the rights to rally and ask for fairness, ask for democracy, but their method should be under the laws … I can only hope this incident would not happen to any other family".