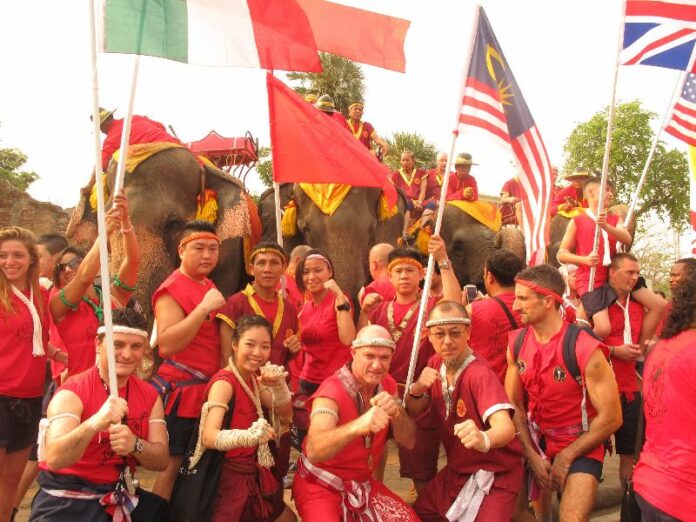 (17 March) Today both Thai and foreign boxers took part in an annual ceremony to honour a legendary Muay Thai hero in Ayutthaya province.
Remembered fondly by many Thais as a patriot and one of the pioneers of their national martial art, Nai Kanom Tom is said to have lived in the 18th century, during the period in which Ayutthaya was the capital city of the pre-modern Siamese country.
Over 100 professional boxers, from both Thailand and overseas, were led by their coaches to the statue of Nai Kanom Tom, where they proceeded to pray and conduct other traditional ceremonies to honour the spirit of the Muay Thai hero.
The boxers, dressed in traditional boxing outfits, were carried to the statue by a convoy of elaborately-decorated elephants. Mr. Witthaya Piwphong, Governor of Ayutthaya province, said such a display was designed to invite divine blessings for the boxers.
He hopes the event will further promote the art of Muay Thai and bring awareness of the sport to a wider international audience.
According to the Governor events will be conducted during the evening in several venues across the province, such as a Thai boxing contest, a banquet for boxers from overseas, and a traditional initiation ceremony for newly trained boxers.
"We want to remember Nai Kanom Tom, who has brought so much honour to our nation," Mr. Witthaya said, "And we want to promote tourism for Ayutthaya province".