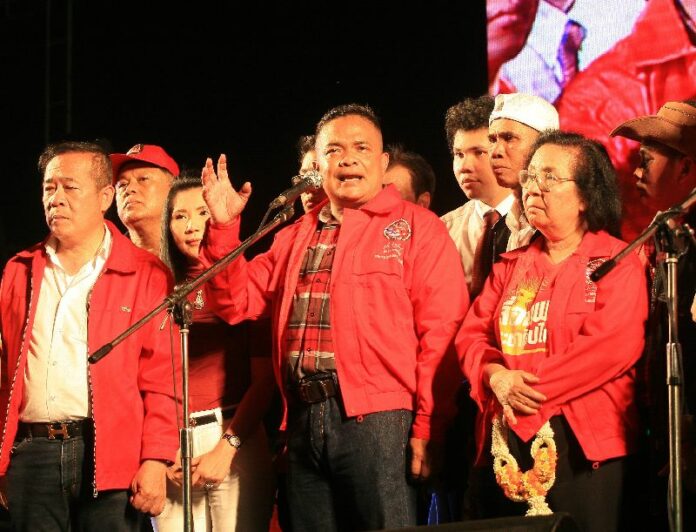 (17 March) Commander-in-Chief of the Royal Thai Army has expressed his contempt toward the appointment of the new Redshirts leader, going as far as branding him a "bandit".
Well-known Pheu Thai MP and longtime Redshirts activist, Mr. Jatupon Prompan, was appointed the new chairman of the United Front of Democracy Against Dictatorship (UDD) over the weekend, replacing Ms. Thida Thavornseth.
Mr. Jatupon's rise to the helm of the UDD apparently did not please Gen. Prayuth Chan-Ocha, who implied in a press conference that Mr. Jatupon, and his fellow Redshirts activists, will not be respected by the military, as they have previously committed unspecified crimes.
"I don't give any importance to these people or any of those who have committed illegal actions," Gen. Prayuth told reporters during his visit to Narathiwat province today.
He added, "It's not appropriate for an official [like me] to argue with bandits. If they want to be aggressive toward the military I will be aggressive too. I will not accept this".
The army chief also claimed he has no intentions of taking sides in politics, and said he did not want to "push the people" towards any particular side.
However, Gen. Prayuth went on to stress that he would likewise display the same hostility toward the anti-government protesters if they had organised separatist movements and insulted the Royal Family – thereby repeating the anti-government protesters' accusation that the UDD intends to secede some parts of Thailand, and that the Redshirts harbour an anti-monarchy attitude.
Asked by a reporter whether he would seek dialogue with Mr. Jatupon, Gen. Prayuth gave an emphatic no. "He doesn't have enough honour for me to correspond with him, he never shows any honour for anyone".
Gen. Prayuth also expressed his "pity" for the Redshirts for having "an immoral man" as their leader.
"Thai people must have their eyes opened," Gen. Prayuth said, "If they are not happy with something, they should file lawsuits and not criticise the monarchy, or the court, or the military".