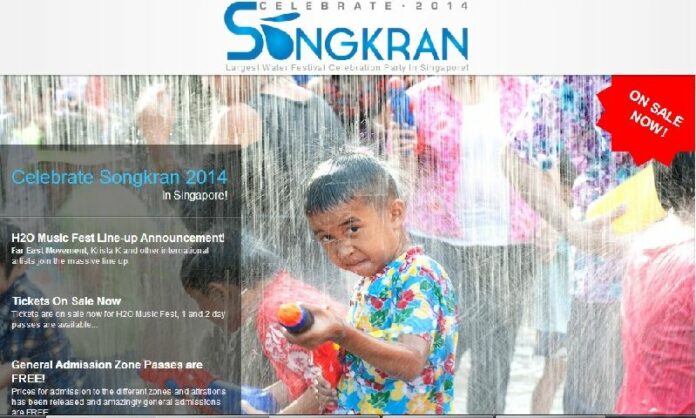 (20 March) The head of the Thai cultural watchdog has disputed reports that indicate officials are taking legal action against Singapore for organising a Thai traditional New Year festival.
Billed as the "Largest water festival celebration party in Singapore" and "The largest Songkran outside Thailand", the event, to be held on 12-13 April, features water-splashing fights and musical performances.
According to information on their website, the event appears to be co-hosted by several private companies, without direct partnership with the Tourism Authority of Thailand (TAT) or the Thai consulates – unlike Songkran celebrations in other overseas Thai communities, such as Australia and Hong Kong.
The news has received mixed reaction from the online community in Thailand. While many welcome the event as a proof that Songkran has become so successful and widely recognised by an international audience it has been adopted by foreign organisers, others accused the Singaporeans of "stealing" the Thai tradition.
Debate intensified after several media agencies quoted Ms. Yupa Taweewattanakijbaworn, Director of the Culture Surveillance Bureau, as saying that her agency was considering a lawsuit against the island nation over the "unauthorised" celebration of the Songkran Festival.
Ms. Yupa was also quoted as saying that the Singaporeans have "distorted" the tradition of Songkran by using it solely to promote tourism without paying tribute to the cultural roots behind the festival.
The reports have baffled many observers, leading one prominent historian to comment on his Facebook page that it is incredible that any Thai official would proclaim the ownership of Songkran since the tradition has been inherited from Thailand's neighbouring cultures, and it is still celebrated in the regions beyond Thailand.
However, Ms. Yupa told Khaosod late yesterday that her agency, which operates under the Ministry of Culture, has no intention of filing any lawsuit against Singapore.
"I never said anything like that," Ms. Yupa insisted, "Such reports have caused damage to me, and to the Ministry of Culture".
The director of Thai cultural watchdog claimed that she merely said, in previous interviews, that she positively views the Singaporean Songkran as good PR for Thai Songkran, and expressed her wish that the Singaporeans would "play Songkran correctly" in accordance to the Thai tradition.
"It's a sensitive subject. I don't want to cause any disturbance to international relations," Ms. Yupa complained, adding that she's distraught to see her "misquotes" being amplified and "distorted" on the social network.
Other tourism officials have also downplayed any impact the Singaporean Songkran might cause to Thailand.
Minister of Tourism and Sports Somsak Pureesrisak said he is delighted to see Singaporeans adopting Songkran celebration, which he believes will help promote tourism in both Thailand and Singapore, while the Department of Cultural Promotion Director Chai Nakhonchai commented that Songkran has been a "shared tradition" among Southeast Asian nations for centuries.
Organisers of the event in Singapore did not immediately respond to requests for comments.
Meanwhile, Mr. Somchart Pimthanapoonphon, chairman of Hatyai-Songkhla Hotel Association, dismissed concerns that the Singaporean Songkran would affect Thai tourism. He noted that Malaysian organisers have staged their own Songkran event in the past, yet it was not as "fun" as Thai Songkran, and foreign tourists still kept coming to enjoy the Thai festival.
"I think tourists will still prefer Songkran in Hat Yai." Mr. Somchart said, "Moreover, it's much cheaper here than Singapore".
However, Mr. Visoot Buachoom, director of Chiang Mai's chapter of the TAT, voiced his suspicion over the motives of the Singaporeans to organise their own Songkran festival.
"If you look at it in a negative way, you might have the idea that they are being opportunists, using their neighbour's culture for their own gain," Mr. Visoot said, "It's not appropriate, because it disrespects the rights and unique identity of other cultures".
But Mr. Visoot also expressed his confidence that many foreign tourists will find Songkran in Thailand more attractive, due to the "originality" and fun.
He estimated that 100,000 tourists will flood into Chiang Mai province during the Songkran holidays, generating revenues of over 1.2 billion baht.
For comments, or corrections to this article please contact: [email protected]
You can also find Khaosod English on Twitter and Facebook
http://twitter.com/KhaosodEnglish
http://www.facebook.com/KhaosodEnglish