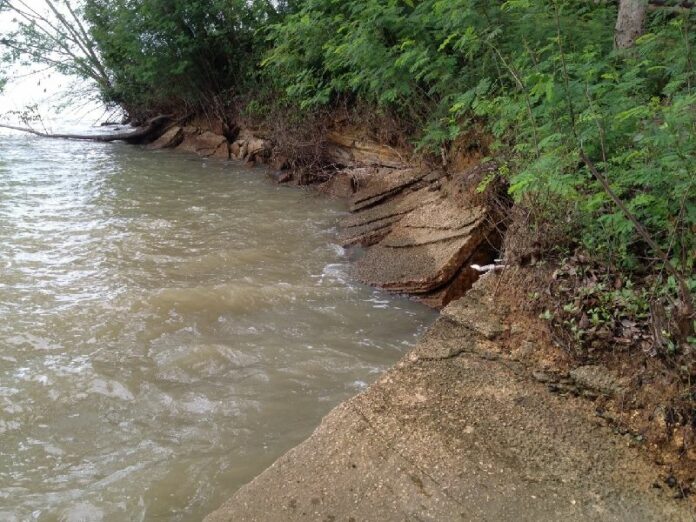 KRABI — Raging waves in southern Thailand have accelerated the destruction of a prominent fossil site in Krabi province, causing parts of the fossil bed to collapse into the sea.
Known to the Thais as "Shell Cemetery," the popular attraction in Ban Laempho district consists of large slabs of stone formed by layers of fossilized shells and other organic substances. State archaeologists say the fossils were formed 75 million years ago and only two other similar fossil beds can found elsewhere in the world, in the United States and Japan.
According to park official Mr. Somporn Krupching, the fossil bed has been slowly eroded by waves, but heavy storm conditions over the past five days have accelerated the damage considerably. A few centimeters of the plate have sunk into the sea, while the base of the fossil bed has been hollowed out by the onslaught of waves.
Visitors are now barred from walking to the end of the fossil plate, which extends 50 metres into the ocean, in order to protect the hollowed bed from collapsing.
Mr. Somporn said he wants the Department of Mineral Resources to come inspect the fossil bed and craft plans to protect the iconic site.
Fierce weather along the southern coast of Thailand this week has damaged hundreds of buildings and beach resorts in other popular tourist destinations as well.
"These are the biggest waves we have seen in 10 years," said Se Komkla, manager of a resort on Bang Nian beach​ in Pha Ngan.
For comments, or corrections to this article please contact: [email protected]
You can also find Khaosod English on Twitter and Facebook
http://twitter.com/KhaosodEnglish
http://www.facebook.com/KhaosodEnglish