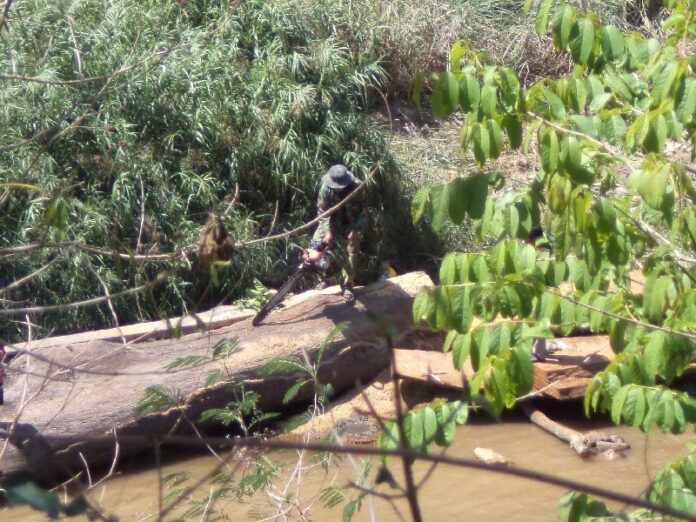 PHETCHABURI – The wife of missing rights activist says she has uncovered a set of photos that may shed new light on the suspected abduction of her husband.
Porlachee "Billy" Rakchongcharoen went missing two months ago on 17 April after he was detained by park officials in Kaeng Krachan National Park in Petchburi province. Mr. Porlachee is an ethnic Karen who had been campaigning on behalf of Karen communities in national park who say they have been intimidated and abused by park officials.
Mr. Porlachee is also a key witness in a court case against former Kaeng Krachan Park chief, Mr. Chaiwat Limlikitaksorn, who has been accused of engineering the violent eviction of 20 Karen families in 2011. Mr. Porlachee's involvement in the case has led many to suspect that he was "disappeared" by park officials in an effort to silence the Karen community's accusations.
Yesterday, Surapong Kongchantuek, a human rights expert and legal adviser to Mr. Porlachee's family, said he received a set of photos from Billy's wife that show park officials cutting down trees in the national park.
According to Mr. Surapong, Mr. Porlachee took the photos and saved them on his flashdrive, which was discovered accidentally by his wife a few days ago.
Mr. Surapong said the photographed officials, who were wearing "Department of National Park" t-shirts, may have been engaged in illegal logging and it's possible Mr. Porlachee photographed the group to provide evidence of their misconduct.
Local Karens claimed that the photos were genuine and confirmed that illicit logging took place near Baan Pong Luek and Bang Kloi villages, Mr. Surapong said. He urged the authorities to swiftly clarify the matter.
The director of the National Park Department, Nipon Chotiban, said an investigation of the photos is underway.
"I have already instructed officials to investigate the background of these photos, because these days there are a lot of photoshopped images," Mr. Nipon said. "If national officials were indeed cutting down trees illegally, I will prosecute them according to the laws."
It's now been two months since Mr. Porchalee was last seen, but Mr. Surapon said the police investigation into his disappearance is going nowhere.
"I have been coordinating with Kaeng Krachan police, but the officers are so slow at work," Mr. Surapong said. "The case has seen no progress."
Human rights activists have accused park officials of collaborating with Mr. Chaiwat, the former park director, to cover up evidence related to Mr. Porlachee's disppearance. Mr. Chaiwat admits he detained Mr. Porchalee for carrying illegal honey on the day he went missing, but claims he released the activst on the same day.
After initial reluctance, Mr. Chaiwat requested to be transferred to another national park to provide the Karen community with "peace of mind." The Department of National Park later moved Mr. Chaiwat to a low profile post in Bangkok.
Pol.Lt.Col. Kollayut Wongpetch, an investigation officer at Kaeng Krachan Police Station, said yesterday that police have asked the Office of Public Sector Anti-Corruption Commission (PACC) to launch a separate inquiry into Mr. Chaiwat for his alleged negligence of duty and abuse of power during his term as head of Kaeng Krachan Park. Mr. Chaiwat is also facing a criminal investigation for allegedly masterminding the murder of another Karen activist from Mr. Porchalee's network in 2011.
"Furthermore, we have already sent police officers to protect witnesses and Karen residents in Baan Pong Luek and Bang Kloi villages as they have requested," Pol.Lt.Col. Kollayut said.