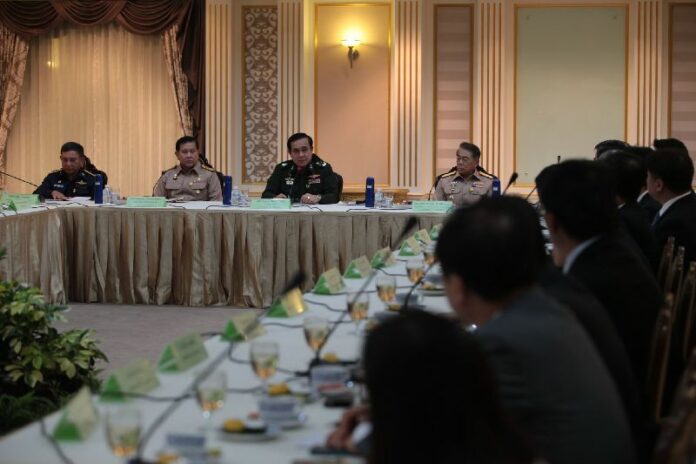 BANGKOK — The Democrat Party's deputy leader has thrown his support behind a military-dominated National Legislative Assembly, which is expected to be formed later this year.
"There has to be a guarantee that they can control the majority in the Assembly," said Nipit Intarasombat, referring to the National Council for Peace and Order (NCPO), which seized power in a coup d'état on 22 May.
"The government has to be confident that it has a majority [in the Parliament]," he said. "If the NCPO cannot control the majority, the methods of reforms will not be achieved."
Mr. Nipit's comment followed reports that at least half of the National Assembly seats in the interim government will be filled by military officers loyal to the NCPO. The reports have raised concerns among pro-democracy activists that the military will continue to dominate Thai politics long after it cedes administrative power to an interim government.
According to NCPO leader Gen. Prayuth Chan-ocha's roadmap for the country, the interim governement will be appointed in September and tasked with carrying out a series of constitutional reforms. The next election will be held in October 2015 at the earliest and only if conditions are deemed stable.
Gen. Prayuth has also indicated that the junta will reserve the authority to intervene in matters of "national security" even after the interim government is formed.
The 22 May coup followed six months of protests aimed at toppling the government of Prime Minister Yingluck Shinawatra and replacing it with an unelected people's council to carry out unspecified "national reforms." In solidarity with the anti-government protesters, the Democrat Party boycotted the 2 February poll, accusing Ms. Yingluck's government of widespread corruption and demanding reforms before elections.
The Democrat Party, which fields most of its support from Bangkok and southern Thailand, has lost to political parties backed by Ms. Yingluck's brother and former premier, Thaksin Shinawatra, in every national election since 2001. In 2006, the party helped pave the way for the military coup that ousted Mr. Thaksin and led to constitutional reforms that made Thailand's electoral system less democratic.
"I'm not concerned with the persons [in the National Assembly]," Democrat Party leader Mr. Nipit said today. "I am concerned with how they will reform the country. I will evaluate them based on the interim charter and their policies in terms of reform."
This May, Mr. Nipit accused the former government of being a "dictatorship of the majority" for its majority rule in Parliament.
Correction: The name of Democrat Party's deputy leader was misspelled in the original article. He is called Nipit, not Pinit.