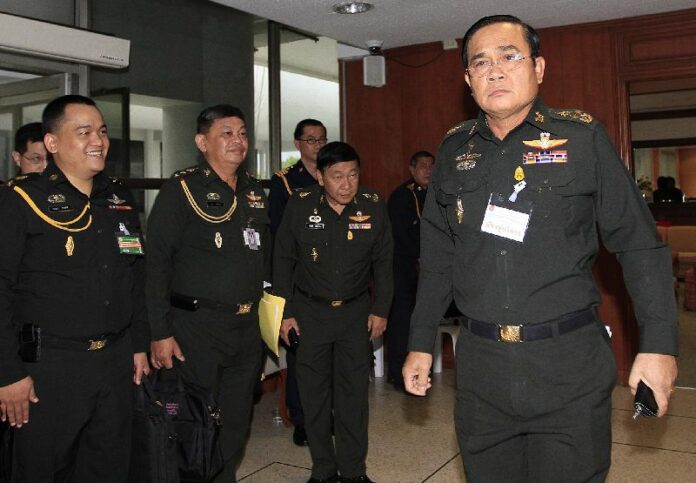 BANGKOK— The spiritual leader of Thai Buddhism has deemed the leader of Thailand's military junta, Gen. Prayuth Chan-ocha, fit to be the Prime Minister of the country's next government.
Somdet Phra Maharatchamongkhalachan, the acting Supreme Patriarch of Thai Buddhism and abbot of Wat Pak Nam Temple in Samut Prakarn province, delivered the comments today as representatives of the ruling National Council for Peace and Order (NCPO) visited him to offer alms on the occasion of Buddhist Lent.
A reporter at the ceremony asked the venerable monk, who is known locally as Somdet Chuang, whether he thinks NCPO leader Gen. Prayuth is capable of being Prime Minister.
"If he wants to be, he surely can," Somdet Chuang replied. "Judging from his action and strength, Gen. Prayuth is capable of being a Prime Minister."
Gen. Prayuth currently holds all the powers of prime minister as leader of Thailand's military junta, but is expected to cede administrative power to an interim government this September. So far, he has refused to rule out the possibility of taking the premiership, which would make him the first Prime Minister to also be an active military commander since 1992.
State-owned and pro-coup media agencies have published survey polls that claim a majority of the Thai population wishes to see Gen. Prayuth as the new Prime Minister, but Somdet Chuang is the most high-profile figure to endorse the army chief so far.
"What the NCPO has done so far is considered to be the right path," Somdet Chuang told reporters. "Because the NCPO leader wants to establish reconciliation, unity, and harmony."
The Supreme Patriarch said he would like to give his moral support to Gen. Prayuth "so that he stays strong and accomplishes works for the goodness of the country."
The monk added that Thai people should live in harmony and unity, and strictly practice the Five Precepts of Buddhism by disavowing murder, theft, lying, adultery, and alcohol.
Somdet Chuang has been holding the rank as the supreme leader of the Buddhist order in Thailand since his predecessor, Somdet Phra Nyanasamvara, died at the age of 100 at Chulalongkorn Hospital last year.