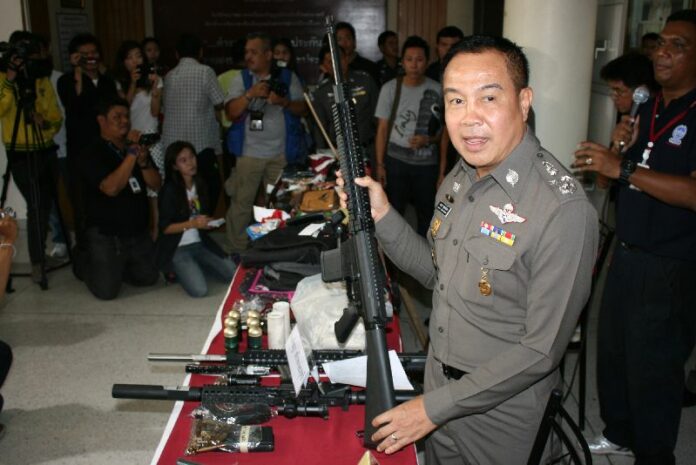 BANGKOK — A police effort to parade a suspected gunrunner in front of the press corps collapsed today when the suspect shouted that he had been forced into confession by the officers.
Satya Sateerapongsasutthi, 39, was arrested last night at a condominium in the upscale district of Sukhumvit on charges of possessing firearms and ammunition without permit and carrying weapons into a residential area without due cause.
Mr. Satya is also charged with resisting police operation; police claim the suspect attempted to draw a handgun at the officers during the raid on his condominium.
At the press conference held at Bangkok Metropolitan Police headquarters this morning, deputy police chief Pol.Gen. Somyot Phumpanmuang said Mr. Satya has been actively selling military grade weapons to criminals, including those who launched attacks on anti-government protesters earlier this year.
According to Pol.Gen. Somyot, the search of Mr. Satya's condominium turned up two M-16 rifles, two unidentified assault rifles, three handguns, 19 grenades for M79 launchers, and thousands of bullets for handguns and rifles.
The police also uncovered a pair of night-vision goggles, one bullet proof vest, and one bullet proof helmet, Pol.Gen. Somyot said.
"The suspect confessed that he owned the weapons," Pol.Gen. Somyot told reporters, adding that Mr. Satya first identified himself as a military officer working under the military junta's National Council for Peace and Order (NCPO) and tried to shoot the police with his handgun.
However, as the police escorted Mr. Satya to the press conference, the suspect suddenly struggled and shouted that he had been forced by the police to make confession.
Mr. Satya also said he wants a lawyer and that he will fight his allegations in court.
The police then canceled the press conference and took Mr. Satya away. He is understood to be under the custody of Lumpini Police.
Thai police have a history of assaulting or coercing suspects to confess while in police custody. Last week, a viral video showed a police officer smacking the head of a rape and murder suspect, apparently during interrogation.
For comments, or corrections to this article please contact: [email protected]
You can also find Khaosod English on Twitter and Facebook
http://twitter.com/KhaosodEnglish
http://www.facebook.com/KhaosodEnglish