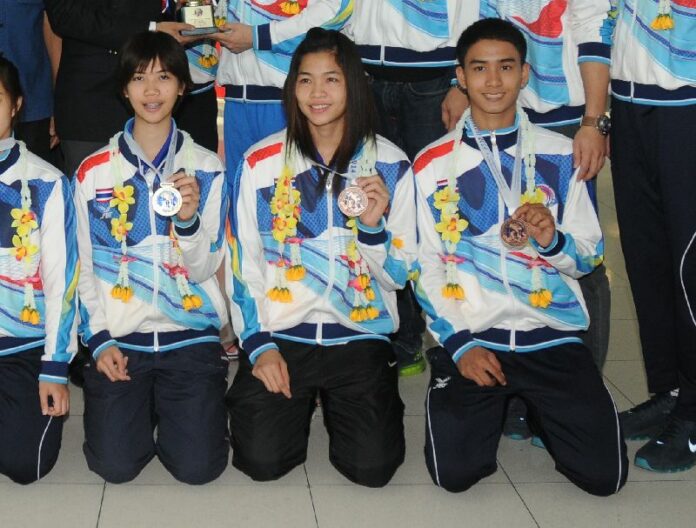 BANGKOK — The coach of Thailand's National Women's Taekwondo Team is due to meet with the athlete who accused him of physically assaulting her, raising hopes that their public feud will finally come to an end.
South Korea-born Choi Young-Seok said today that he would like to apologise to the public for being a part of the controversy that has gripped Thai media for over a week.
"I didn't think [my actions] will lead to such an escalating consequence," Mr. Choi said at a press conference at the Taekwondo Association of Thailand.
Mr. Choi also told reporters that he already apologised to the athlete, Rungrawee Kusara, shortly after he "punished" her during the Korea Open tournament in South Korea on 11 July.
Last week, Ms. Rungrawee publicly accused Mr. Choi of savagely punching her in the stomach and face after she lost a match in the tournament. On national television, Ms. Rungrawee demanded the coach, who was still in South Korea at the time, apologise to her publicly.
Over the past week, many Thais have taken to social media to fiercely debate whether Mr. Choi's behavior was acceptable and Ms. Rungrawee's response warranted. Prominent Taekwondo athletes, including former Olympian medalists, also weighed in with their opinions, further deepening the debate. The controversy continued to escalate, eventually leading a top official of the Ministry of Sports and Tourism to call on related authorities to step in and end the conflict.
At a press conference today, Mr. Choi insisted that he punished Ms. Rungrawee because he wanted to instill a sense of discipline in her.
"Discipline is very important for me. Every National Team athlete should have a sense of responsibility, because their duty is for the nation, not to clubs that they are members," Coach Choi said. "Everyone must have the spirit of a fighter."
Ms. Rungrawee, Mr. Choi's accuser, told Khaosod that she has received a phone call from the Taekwondo association to arrange a meeting between her and Mr. Choi and that she has accepted the offer.
"I will talk to him soon," she said in a phone interview.
Ms. Rungrawee continued, "In the past week, I've been spending time with myself. I have been talking to my family. I have been thinking about many things. I now understand that the coach really means well for me. It's just the way he expressed himself was too violent."
Preecha Tortrakul, director of the national Taekwondo association, said he believes Mr. Choi's method of punishment should be reconsidered, especially when it comes to touching athletes' head or faces "because it's a big thing in our country." In Thai culture, it is considered disrespectful to touch another person's head.
However, Coach Choi said at the press conference that he would have to talk with his supervisors before he decides whether he will drop physical punishments altogether.
Sources inside the Taekwondo Association of Thailand say the meeting between Ms. Rungrawee and Mr. Choi will take place at 3 pm tomorrow. Ms. Rungrawee is expected to apologise to Mr. Choi in a traditional manner, the sources say.
For comments, or corrections to this article please contact: [email protected]
You can also find Khaosod English on Twitter and Facebook
http://twitter.com/KhaosodEnglish
http://www.facebook.com/KhaosodEnglish