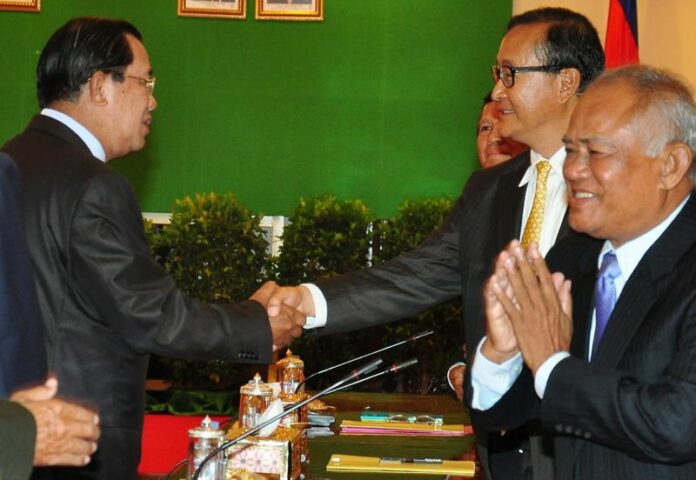 By Kate Bartlett
PHNOM PENH (DPA) — The main opposition party ended its boycott of Cambodia's parliament, and the government agreed to release eight activists from jail to end a political stalemate Tuesday.
Talks between Prime Minister Hun Sen and Cambodia National Rescue Party leader Sam Rainsy produced the agreement, party whip Son Chhay said.
"Both parties have reached an agreement," Chhay said.
"I think it's likely they'll be sworn in Friday or Saturday," he added, referring to the 55 party members who won legislative seats in the July 2013 elections.
The opposition had alleged electoral fraud and refused to take its seats for almost a year. It frequently staged demonstrations demanding the prime minister's resignation and new elections.
"We got what we want," he said, rejecting suggestions that they had caved on some demands to secure the release of their colleagues, who were arrested after a violent protest last week.
Seven opposition lawmakers-elect and one party activist were charged with incitement and insurrection last week after some of their supporters fought back against security guards who tried to break up a rally.
The US State Department called for their immediate release and Human Rights Watch condemned the charges.
They have been held in pre-trial detention at Phnom Penh's Prey Sar prison. At Prey Sar families of those detained and supporters waited in the rain for their release Tuesday.
While the CNRP had originally called for long-ruling Prime Minister Hun Sen to step down, they had more recently only demanded reform of the National Election Committee (NEC), which is stacked with ruling party sympathisers, and an early next election.
Son Chhay would not say if or when an early election would take place. It is currently scheduled for 2018.
Phay Siphan, chief government spokesman, said that the government welcomed an end to tensions.
"We all prefer national unity on behalf of the people," he said.
The NEC will now be made up of four members of the ruling party, four from the opposition, and a ninth chosen by consensus, he added.
"Both parties will talk again about the date of the election," he said.
Ou Virak, a political analyst and president of the Cambodian Center for Human rights, said he did not think the deal reached Tuesday meant tensions were quite over, noting that there were still many points to be quibbled over.
"The devil is in the details," he told dpa.
"I think it's a welcome temporary settlement but there will be a lot of wrangling to continue," he said.
Virak added that he thought most opposition supporters would welcome an end to the deadlock, but a few in the more radical camp would not
So far there has been no investigation into police shootings that killed seven people at protests over the past year.