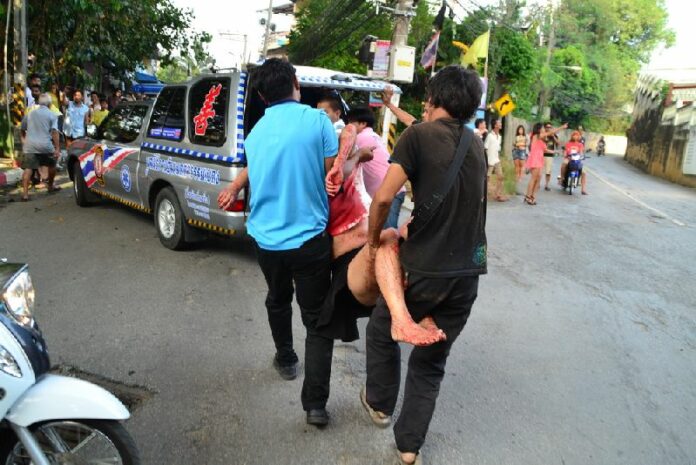 YALA — A deadly car bomb struck the financial district of Yala province yesterday as local Muslims were preparing to celebrate the end of Ramadan season.
Two people were killed and more than 30 injured when a pick-up truck packed with explosives blew up in front of the Holiday Inn Hotel in Betong district at around 4.30 pm.
Residences and shops near the blast site were also heavily damaged by the blaze, which took firefighters more than one hour to contain.
Betong district mayor Somyot Lertlamyong said at least 15 buildings have been damaged by the blast, and officials are still working to calculate a total cost of damage.
According to security officers, many of the casualties are shoppers who were buying goods from vendors and markets in the vicinity to prepare for Eid Holiday, which marks the end of Ramadan fasting and is due to take place early next week.
The car was equipped with a fake license plate, 30 kg of explosives, and a timed detonator, police say.
Pol.Col. Wasan Puangnoi, a commander of Betong Police, said he is shocked by the incident, as Betong has not seen any major attacks for 8 years.
"Officials will have to reconsider and improve our security measures," Pol.Col. Wasan said.
He believes the perpetrators behind yesterday's car bomb are part of the same insurgent group that has been staging regular terrorism attacks in other parts of Yala.
Thailand's three southern border provinces – Yala, Narathiwat, and Pattani – have been beleaguered by an Islamic separatist insurgency since 2004. More than 5,000 people have been killed in the violence.
Although the profiles and demands of the insurgents remain mostly obscure, it is believed that the group seeks independence for the three provinces, which are dominated by Malay Muslims.
There have also been cases of separatist violence spilling out into the neighbouring provinces.
Dejrath Simsiri, Governor of Yala province, told reporters yesterday that he believes the insurgents plotted the attack to sabotage the province's economic center in the period leading up to Eid celebration.
The leader of the military junta's National Council for Peace and Order (NCPO), Gen. Prayuth Chan-ocha, has been informed about the attack and has instructed the authorities to look into the matter, a military spokesperson said.
"He has ordered the authorities to be more vigilant in risk areas," said NCPO spokesperson Col. Banpot Poonpian. "Because he is concerned that the perpetrators may strike again."
For comments, or corrections to this article please contact: [email protected]
You can also find Khaosod English on Twitter and Facebook
http://twitter.com/KhaosodEnglish
http://www.facebook.com/KhaosodEnglish