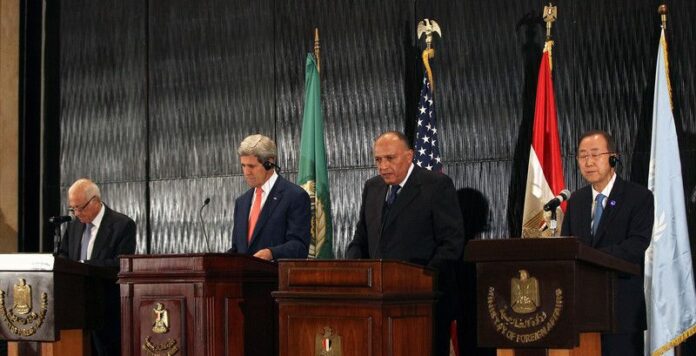 By dpa correspondents
TEL AVIV (DPA) — Hamas and Israel will observe a 12-hour humanitarian ceasefire in the Gaza Strip beginning Saturday morning, as talks on a more durable ceasefire move to Paris.
Pro-Hamas al-Aqsa television and the Hamas news agency al-Ray in Gaza quoted senior Hamas officials as saying that the announcement of the ceasefire follows a United Nations appeal to the two sides. It will begin at 8:00 am (0500 GMT) on Saturday.
The Israel Defence Forces (IDF) announced a "humanitarian window" in the Gaza Strip, but said it would continue destroying tunnels in the Gaza Strip during the ceasefire.
The IDF statement about the ceasefire came hours after Hamas media announced it.
The statement warned Gaza civilians who have been told to vacate their residence not to return. It also warned that the IDF "shall respond if terrorists choose to exploit this time to attack IDF personnel or fire at Israeli civilians."
It is the second ceasefire the two sides have accepted since the start 19 days ago of a large-scale Israeli offensive on the Gaza Strip, where around 865 Palestinians have been killed and 5,700 injured, according to medics.
Hopes for a longer ceasefire ebbed and flowed throughout the day Friday amid reports and rejections that all or part of the US-brokered deal had been rejected by Israel.
Israeli media outlets said the deal had been rejected. Officials reportedly said the terms of the deal did not meet the government's minimum requirement, without elaborating.
But US Secretary of State John Kerry categorically denied those reports at a Cairo press conference with UN Secretary General Ban Ki-moon and Egyptian Foreign Minister Sameh Shoukri.
He said Israeli Prime Minister Benjamin Netanyahu had talked to him moments before the Cairo press conference and assured him that reports of an Israeli rejection were false.
"That is in error, inaccurate," said Kerry. "Let's make that absolutely clear."
The UN, US and Egypt had pushed for a seven-day humanitarian ceasefire in Gaza, Kerry said, stressing that the only way for "this issue to be resolved … is for the parties to be able to come together and work through it."
Kerry said there would be a meeting in Paris Saturday to further discuss the ceasefire proposal. Shoukri said more effort was needed to get all parties to agree.
Earlier reports stated that Kerry's proposal would allow Israeli forces to continue to destroy tunnels in Gaza used for attacks against Israel during any ceasefire.
Hamas, which controls the Gaza Strip, is insisting on an easing of the tight blockade on the coastal enclave, in place for the past seven years, in exchange for an end to hostilities.
Hamas officials have told Palestinian media that they were looking into Kerry's proposal, but are unhappy with the option for the Israeli military to stay in Gaza.
More than 850 Palestinians have been killed in Gaza since the start of the Israeli offensive nearly three weeks ago, according to medics. In Israel, 34 soldiers and three civilians have died.
The humanitarian situation in Gaza is worsening. Food, medicine and water are in short supply.
With more than 150,000 people displaced, the UN says nearly half of the territory is unsafe, leaving residents with nowhere to find shelter. The borders to Egypt and Israel are mostly locked down.
A UN school where Palestinians had sought shelter was shelled on Thursday, killing 16. It is still unclear who was responsible for the attack.
It was the fourth UN facility to be hit during the conflict and highlighted the dire plight of many civilians in Gaza.
Palestinian militants have continued to fire rockets into Israel. An Israeli soldier died in combat in Gaza on Friday morning, the military said.
The Israeli government launched its offensive 18 days ago, saying the goal was to curb rocket fire from Gaza that started amid rage at the deaths of four teenagers – three Israeli and one Palestinian.