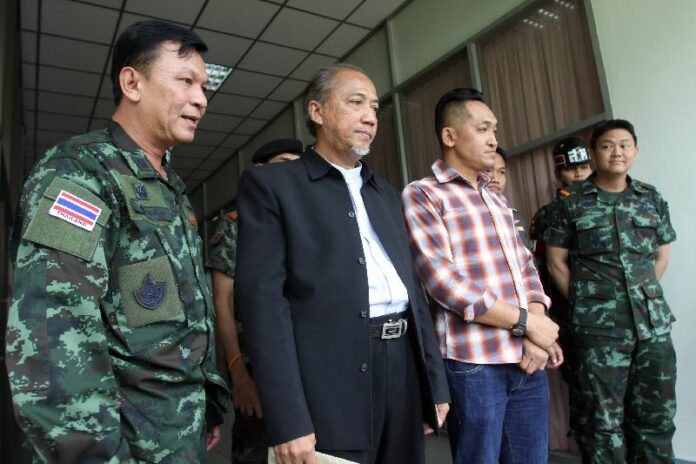 BANGKOK – Thailand's military junta has summoned a Shiite imam for violating the ban on public protests by organizing a pro-Palestine rally in Bangkok last Friday.
Satienparp Suksamran, chairman of Al Quids International Federation of Thailand, led a demonstration in front of Israel Embassy in Bangkok on 25 July to protest Israel's ongoing assault in the Gaza Strip. Israel launched amilitary offensive against Hamas militants in Gaza earlier this month, so far killing more than 1,000 Palestinians, the majority of whom were civilians.
Yesterday, Mr. Satienparp met with military officers at Army Club in Bangkok to acknowledge that his protest was a violation of the junta's ban on public gatherings, which was imposed shortly after the National Council for Peace and Order (NCPO) staged a coup against the previous government on 22 May.
The press was not allowed to observe the meeting, but Mr. Satienparp told reporters afterwards that he tried to explain to the officers that the protest was solely about the humanitarian situation in Gaza.
"Similar protests have been held in other countries," the Shiite cleric said. "The protest has no connection with Thai politics."
Nevertheless, the Al Quids Federation in Thailand has agreed not to stage any further protests, Mr. Satienparp said.
The NCPO has strictly enforced the ban on public gatherings on all anti-coup demonstrations, but has less frequently interfered with rallies around other causes. In the past month, an anti-America protest, pro-death penalty rally, and a previous anti-Israel demonstration were all been permitted without interference from authorities.
For comments, or corrections to this article please contact: [email protected]
You can also find Khaosod English on Twitter and Facebook
http://twitter.com/KhaosodEnglish
http://www.facebook.com/KhaosodEnglish