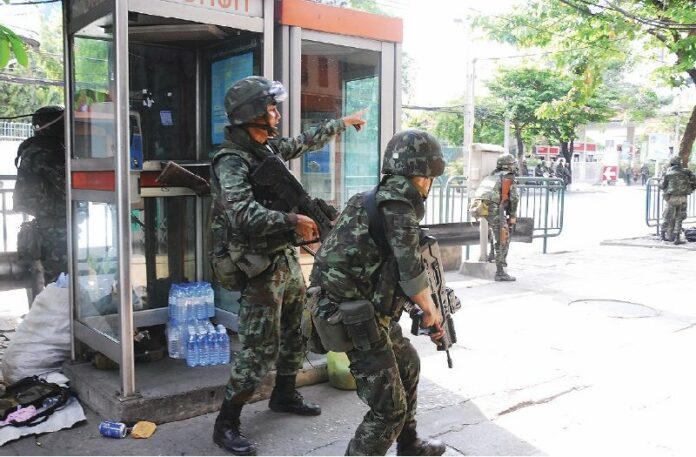 BANGKOK — Former politician Suthep Thaugsuban filed a legal complaint today that pushed back the trial over his authorisation of the military crackdown on Redshirt protesters in 2010.
Former Prime Minister Abhisit Vejjajiva and Mr. Suthep, who was the Deputy Prime Minister at the time, face murder charges for their authorization of the crackdown, in which more than 90 people died, most of whom were civilians.
The Division of Special Investigation (DSI) filed charges against Mr. Abhisit and Mr. Suthep separately in 2010, but today the Criminal Court decided to combine the two cases into one, as both cases concern similar sets of evidence, witnesses, and offences.
At today's court hearing, Mr. Suthep denied the charges and requested the court reconsider whether the DSI has the jurisdiction to file the lawsuit against him. Mr. Abhisit has filed similar challenges in the past.
The judges agreed to deliberate on Mr. Suthep's complaint and scheduled the next court appearance for 28 August.
Mr. Suthep, who showed up at court today in his monk robe, refused to speak to reporters after the court session was adjourned, but prior to the hearing said that his mind has been very "peaceful" since he took up the monastic order several weeks ago.
The former politician, who is now also known by his ecclesiastic name Phra Paphagaro, said he does not know when he will leave the monkhood. Mr. Suthep became a monk after leading a six month protest campaign against the former government starting last November. The protests came to an end when the military staged a coup on 22 May and took control of the country's administration.
Mr. Suthep repeatedly postponed his murder trial earlier this year, citing his need to oversee the protests against government.
In 2010, tens of thousands of Redshirts flooded Bangkok and occupied the city's financial district to demand Mr. Abhisit dissolve Parliament and call a fresh election. After several months, Mr. Abhisit's government authorised the military to disperse the protesters, culminating in the Redshirts' surrender on 19 May.
Both Mr. Abhisit and Mr. Suthep have insisted that the use of force was necessary because the protests were infiltrated by armed militants. They claim that these militants, and not the military, were behind many of the deaths caused by the crackdown.
However, previous court inquests have determined that many of the fatalities, which included protesters, civilians, and journalists, were killed by military weapons fired from the position of the security forces.
For comments, or corrections to this article please contact: [email protected]
You can also find Khaosod English on Twitter and Facebook
http://twitter.com/KhaosodEnglish
http://www.facebook.com/KhaosodEnglish