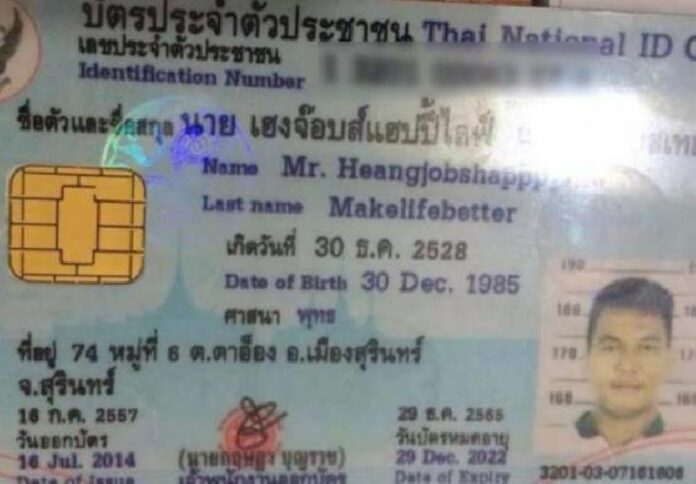 BANGKOK — Officials have confirmed that the bizarre name of an alleged cellphone thief, Hengjobshappylife Makelifebetter, is consistent with Thai name regulations.
Mr. Hengjobshappylife, 29, was arrested last week for allegedly stealing an iPhone 5s from a basketball court in Surin province.
The suspect's name and a screenshot of his Thai ID Card have gone viral on social media, with some commentators questioning whether the spectacular name is legally-approved.
Yesterday, officials at Muang Surin District Office confirmed that the suspected thief officially changed his name from Saen Soisoonern to Hengjobshappylife Makelifebetter on 16 July, 2014.
Officials said the name registrars did not check the meaning of the name when Mr. Hengjobshappylife filed an application. "Heng" means lucky in Thai. Nevertheless, the registrar concluded that his name change was in accordance with the Person Name Act of 1962, which only prohibits the following:
names that are similar to names of His Majesty the King or Her Majesty the Queen, whether by intention or not.

names that are similar to Royal Titles, whether by intention or not, except the Royal Titles owned by the persons, or their parents, or their heirs.

names that are similar to first or last names royally bestowed by His Majesty the King, or names of other persons that are already registered.

names that contain rude words or meanings.
According to Pol.Lt. Preechachana Maithong, an officer at Muang Surin Police Station, the suspect confessed to stealing the cellphone but said he intended to return it to the owner later.
When questioned about his name by police officers, the suspect said he changed his name "for a better life" after an elderly woman advised him to, Pol.Lt. Preechachana said. It is a common practice for Thai people to change their names to avoid bad luck or evil spirits.
Mr. Hengjobshappylife is a salesman for a health and beauty company named Unicity Make Life Better Project, which could have been a source of inspiration for his new name, Pol.Lt. Preechachana added.
Some Thai celebrities have baffled fans by adopting new, strange-sounding names, such as actress Khakkingrak Khikkhiksaranang whose name caused a round of laughter because part of her last name means "giggling" in Thai.
For comments, or corrections to this article please contact: [email protected]
You can also find Khaosod English on Twitter and Facebook
http://twitter.com/KhaosodEnglish
http://www.facebook.com/KhaosodEnglish