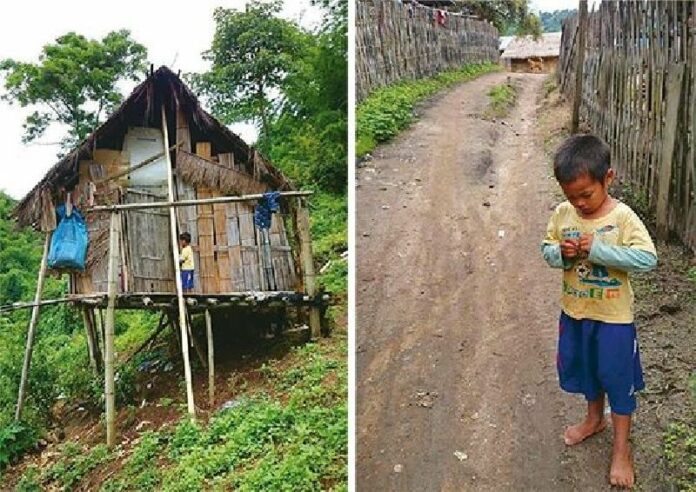 CHIANG RAI — A four-year-old hill tribe boy has found a new life in a temple orphanage after spending more than a year begging for food on his own.
Kae Khae's mother died when he was very young and his father was mentally ill, according to members of the local Lahu tribe that Kae Khae's family belonged to. Some villagers believed his father's illness was caused by illegal drug use.
According to villagers from Janu, Kae Khae's father simply walked away from the village one day, leaving his two-year old son to fend for himself.
For the past two years, Kae Khae has survived on food and clothes donated by sympathetic villagers. During the day, Kae Khae wandered around the village and sometimes bathed in a nearby stream. He never went to school and endured taunts from other children in the village who called him "barbarian."
At night, Kae Khae slept in a rundown bamboo shack not far from the community. Apart from an old pillow and blanket left behind his parents, Kae Khae had no other belongings in his hut.
In fact, Kae Khae did not even have a name of his own; the name given to him by villagers actually belonged to his father.
A helping hand
Kae Khae would still be wandering barefoot in Janu village if staff from Wat Huay Pla Kang's orphanage had not heard about him from several villagers who visited the temple for free food.
"They realised that we take orphans at the temple, so they told us the story about Kae Khae," said Nattakarn Srikuna, who works at the orphanage.
After hearing the boy's story, Mr. Nattakarn drove for more than hour on his motorcycle from the nearest town to the secluded village and found Kae Khae in his destitute conditions. He returned to the temple, which is located in Chiang Rai's Muang district, and told the abbot about the boy.
A few days later, Mr. Nattakarn returned to Janu village and brought Kae Khae back to the temple's orphanage, where he was taught for the first time to brush his teeth, take a shower, and perform other essential tasks.
Watcharin Kaewkantha, the orphanage's director, said he inspected Khae Kae's health when he first arrived. The boy had injuries on his feet after going barefoot for so long and most of his front teeth were in bad condition, Mr. Watcharin said.
However, the boy has smoothly adapted to his new environment, Mr. Watcharin reported. He is now attending classes at the orphanage's school.
"He's a very playful kid. He can blend in with other kids very well," the orphanage director told Khaosod. "When he joins activities with his friends in the evening, he has no problem at all. He plays ball, jumps ropes, and runs and catches with his friends. He's very good at eating, too. He always finishes his plate every time."
According to orphanage staff, Kae Khae also has an insatiable interest in electronic appliances, such as radios, digital cameras, refrigerators, and electric fans. The staff must keep close watch over Kae Khae to prevent him from playing with electric plugs.
Voting For A Name
A search of the state database in Chiang Rai province revealed that Kae Khae did in fact have his own name; he was registered at birth in Lahu language as "Ja-Ue Santhoh."
However, he abbot of Wat Huay Pla Kang, Phra Ajarn Phobchoke, said Kae Khae needed a new name because both his official and unofficial names may bring bad luck.
"When he grows up, his old name, which is rooted in bad circumstances, will leave him scars," Phra Ajarn Phobchoke said. "But his new name should, more or less, bless him for a brighter future."
It is common practice for Thais to change their names. Many people ask monks or abbots at their local temples to come up with new, lucky names for them.
Phra Ajarn Phobchoke said he has already devised several names with auspicious meanings for Kae Khae, including Phobboon (finding miracle), Phobtham (finding truth), and Meechoke (lucky).
The abbot said he will let the public decide on the name for Kae Khae through a vote on the temple's Facebook page in the near future.
For comments, or corrections to this article please contact: [email protected]
You can also find Khaosod English on Twitter and Facebook
http://twitter.com/KhaosodEnglish
http://www.facebook.com/KhaosodEnglish