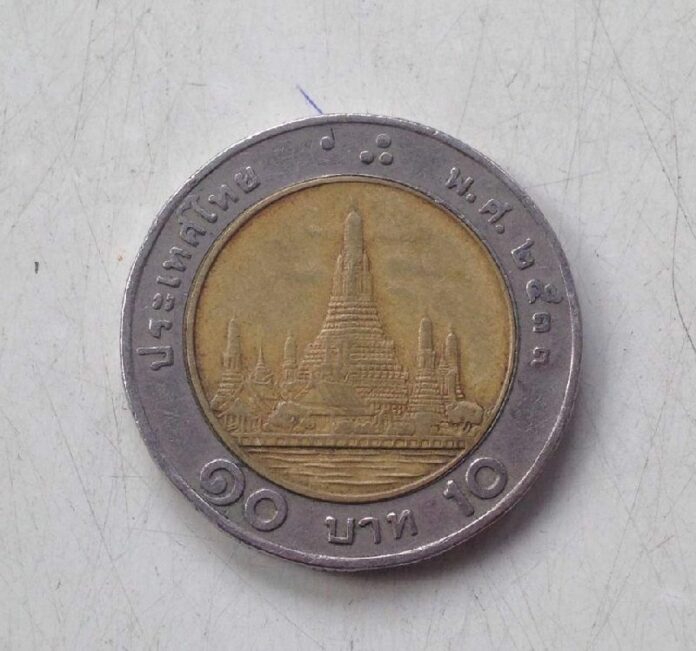 RAYONG — An antique shop in Rayong province has ignited a craze on social media by offering 100,000 baht in cash for a rare circulation of ten baht coins.
Panan Jewelry Shop posted on its Facebook account last week that it is willing to pay 100,000 baht for the rare ten coins that were minted in 1990. According to the post, millions of ten baht coins are minted each year, but only 100 ten baht coins were produced in 1990.
The post has gone viral on social media, launching a hunt for the rare coins, with others questioning whether the offer is a hoax.
Update: Shop Withdraws 100,000 Baht Offer For Rare 10 Baht Coins
Punnawat Siriruengwanich, the owner of Panan Jewelry Shop, confirmed that the advertisement is genuine.
Speaking at his shop in Rayong's Pluak Daeng district yesterday, Mr. Punnawat said the coins were minted for a 1990 rare coin exhibition in Canada, meaning that the coins have never been in public circulation.
"Only 50 coins made it back to Thailand," Mr. Punnawat said. "So it's a very rare coin and a great interest for coin collectors. Only five of these coins have been found, as far as I know."
Mr. Punnawat, who says he has never personally seen the coins, decided to post the Facebook advertisement after a businessman hired him to find them.
Since he posted the ad, so many people have called his shop that he decided to remove the shop's telephone number from the post, Mr. Punnawat said.
"I did not expect that it would be such a massive trend," Mr. Punnawat said. "My phone almost burned down."
He also warned that there have been attempts to alter ten baht coins issued in 1994 to look like they were issued in 1990 by filing the "tail" of the number 4 in Thai numerical.
Wirawuth Sripaoya, deputy director of the Royal Thai Mint, refused to comment on the claims that only 100 ten baht coins were made in 1990."
It's a public holiday right now, so I cannot check our database," Mr. Wirawuth said."But in terms of theory, minting only 100 coins is highly improbable. On average, the Royal Thai Mint produces 1 million coins of each type."
However, Thai Medal Association Nirandorn Wisitsin confirmed to Khaosod that the claim is authentic, as has long been known among veteran Thai coin collectors.
Mr. Nirandorn said the price tag for the 1990's ten baht coins may sound outrageous to non-collectors, but it is completely normal in the antique trade.