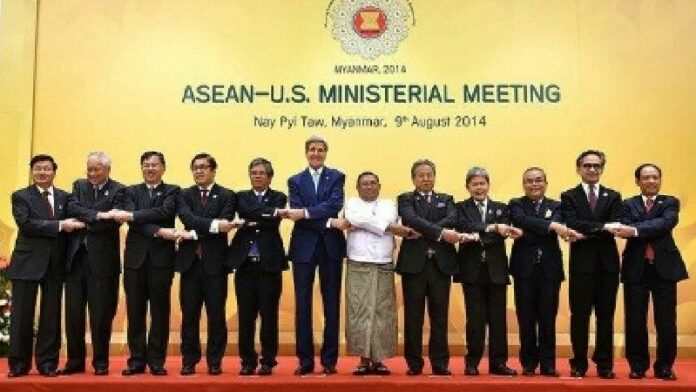 (U.S.Department of State)
On August 9, 2014 John Kerry, the U.S. Secretary of State attended the U.S.-ASEAN Ministerial Meeting at Myanmar International Conference Center in Naypyitaw, Burma.
Some of his remark at the start of the meeting :
"This is the first time I've been able to be back in Myanmar for a while, and it's impossible not to be impressed by the steps that the government has achieved, the road and the journey that they are on to reform and to transition. Today, President Thein Sein works with a parliament that includes former military officers alongside Aung San Suu Kyi. It is a remarkable statement about possibilities. And as Myanmar tackles the challenges ahead, I want the people of Myanmar to know that they have the support and the friendship of the United States.
So much of the history of the 21st century is going to be written right here in Asia, and the longest chapters of that history are going to be driven by what happens in Southeast Asia. That's why the United States remains deeply committed to engaging the Asia-Pacific region, and ASEAN is at the center of the region's multilateral architecture and it plays a critical role in promoting both peace, prosperity, and also a regional integration throughout Asia.
We've already made significant progress on a host of issues, and I know that President Obama is looking forward to being able to visit in November when we have the East Asia Summit. ASEAN, in our judgment, is fundamental to being able to uphold a rules-based system in the Asia Pacific, and ensuring that all countries, big and small, have a say in how we work together in order to deal with shared challenges. That's why we're investing in ASEAN.
The United States and ASEAN have a common responsibility to ensure the maritime security of critical global sea lanes and ports. We need to work together to manage tensions in the South China Sea, and to manage them peacefully, and also to manage them on a basis of international law. It's no understatement that what happens here matters not just to this region and to the United States, but it matters to everybody in the world to see a Southeast Asia that continues to grow based on rules-based international law. That's why we're encouraging claimant states to consider voluntarily agreeing to refrain from taking certain actions, which, in the words of the 2002 Declaration of Conduct, quote, "would complicate or escalate disputes."
So I particularly thank our Asian friends for their leadership. We are determined to deliver on the strategic and historic opportunities that we can create together, and I very much look forward to a productive session today. Thank you to my co-chair."