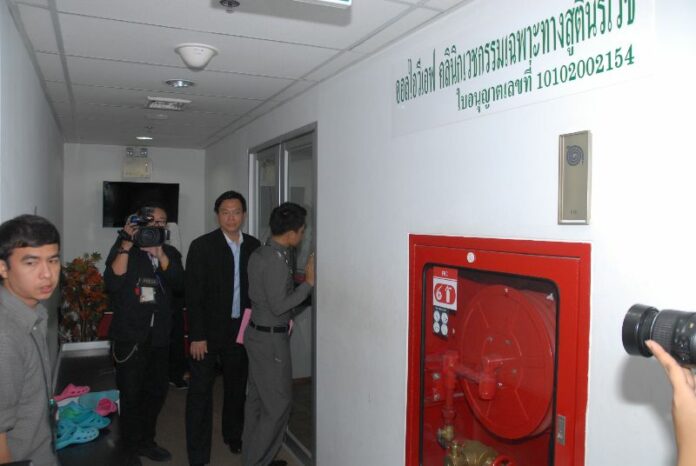 BANGKOK — Police are investigating whether a Japanese man who fathered at least 13 babies with surrogate mothers in Thailand is involved in a human trafficking operation.
The Japanese man, identified as 24-year-old Shikeka Mitsutoki, left the country shortly before police raided a surrogate clinic in northern Bangkok where Mr. Mitsutoki reportedly donated sperm, police say.
The clinic is located on the 12th and 15th floor of Sivatel building in Lad Prao district. According to Pol.Col. Napanwut Liamsanguan, the area on the 12th floor is registered as a medical facility, but the entire operation on the 15th floor and equipment related to surrogate functions have not been registered at all.
The 12th floor clinic is registered under the name of Pisit Tantiwattanakul, a physician who works at the private-owned Bumrungraj Hospital. Dr. Pisit could not be reached for comment.
Pol.Col. Napanwut said the clinic will be closed down immediately as it violates the 1998 Medical Facility Act and is potentially harmful to customers.
Police say they are also concerned about whether the clinic is connected to a human trafficking sting. According to police reports, during Mr. Mitsutoki's two years in Thailand, he left the country at least 65 times. He also reportedly checked in at many high-end hotels in Bangkok during each stay.
Nine babies at the clinic were found to be fathered by Mr. Mitsutoki with surrogate Thai mothers. Police believe he fathered three more babies that have already been sent back to Japan for unclear purposes, a source in the police force said.
"We believe [the clinic] may be a center for recovery and preparation to send the babies back to Japan," the source said.
Pol.Maj.Gen. Chayut Thanataweeratch, deputy commander of Bangkok Metropolitan Police, said he has ordered an investigation into the clinic to establish if there is any evidence of human trafficking. He said it is not clear whether the surrogate mothers have been coerced into the trade or if they have voluntarily accepted the jobs in exchange for money.
Pol.Maj.Gen. Chayut added that Thai laws regarding surrogacy are unclear, while Boonrueng Trairuengworawat, director of the Health Services Support Agency (HSS), stated that a guideline issued by the Medical Council of Thailand discourages surrogacy in exchange for payment.
Mr. Boonrueng said initial inspection of the clinic in Lat Prao district indicates that it has been in operation for three years and may have been responsible for the births of over 100 babies via surrogate mothers.
"We don't know how many doctors are involved. There is only one doctor who is registered with the clinic," Mr. Boonrueng said, "We are waiting for result of the investigation to find out who have been involved."
For comments, or corrections to this article please contact: [email protected]
You can also find Khaosod English on Twitter and Facebook
http://twitter.com/KhaosodEnglish
http://www.facebook.com/KhaosodEnglish