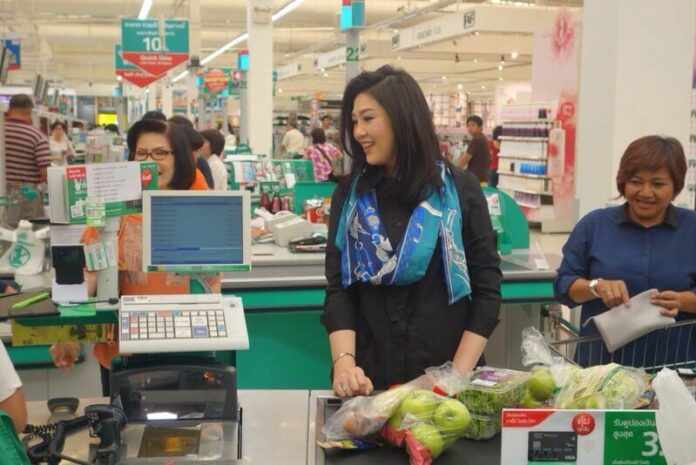 BANGKOK — Former Prime Minister Yingluck Shinawatra has returned to Thailand to face charges of corruption in criminal court.
Ms. Yingluck landed at Bangkok's Don Mueang Airport at around 10.15 pm on Sunday night. A convoy of six cars whisked her away from the airport, without giving any interviews to the press. Today, she was seen at a supermarket in Ram Intra district picking fruits and taking photos with other shoppers.
Her return to Thailand has been a matter of intense speculation, as the National Anti-Corruption Commission (NACC) found her guilty of negligence shortly before she left the country for Europe last month.
According to the NACC, Ms. Yingluck turned a blind eye to rampant corruption in her administration's rice pledging policy, reportedly costing the state more than 500 billion baht in damages.
The NACC has sent the case to Thailand's Criminal Court. If found guilty, Ms. Yingluck could face up to 10 years in jail.
The NACC's decision to send Ms. Yingluck's case to court coincided with the former Prime Minister's announcement that she was traveling to France, presumably to attend a birthday party of her brother, former Prime Minister Thaksin Shinawatra, who was ousted in the 2006 military coup.
There was widespread speculation that Ms. Yingluck would use the opportunity to evade her trial and possible prison term.
For many Thais, Ms. Yingluck's situation was reminiscent of that which Mr. Thaksin once faced. Mr. Thaksin was charged with corruption after the 2006 coup. He fled the country shortly before a court found him guilty in 2008 and has been living in self-imposed exile ever since.
Last week, a report from Thai Rath newspaper quoted a source inside the Pheu Thai Party as saying that Ms. Yingluck may extend her stay abroad to 31 August.
However, Ms.Yingluck's return has put an end to the speculation. Her court date has not been set, as the Office of Attorney-General has not yet officially taken up the case against her.
For comments, or corrections to this article please contact: [email protected]
You can also find Khaosod English on Twitter and Facebook
http://twitter.com/KhaosodEnglish
http://www.facebook.com/KhaosodEnglish