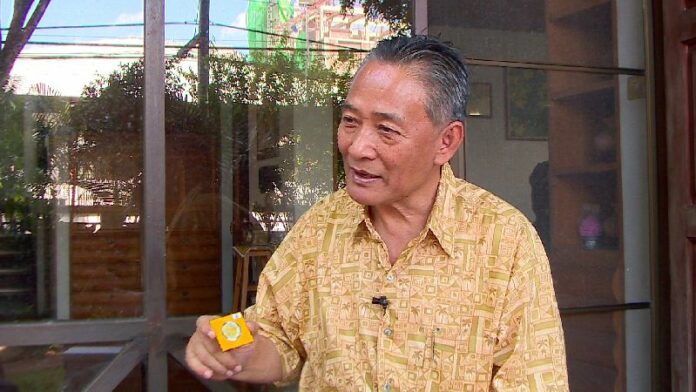 RAYONG — The antique shop owner who made headlines last week by promising 100,000 baht for rare 10 baht coins has withdrawn his offer after accusations of inflating the price of the coins.
Punnawat Siriruengwanic, the owner of Panan Jewelry Shop, started a nationwide sensation last week when he offered to pay 100,000 for 10 baht coins minted in 1990. The coins, of which only 100 exist, are highly sought-after among antique collectors.
But Mr. Punnawat said yesterday that he could not stand the flood of accusations on Facebook that have branded him as an "extortionist."
"Now everyone in my family is stressed. My mother's migraine also got worse because she is so stressed about this," Mr. Punnawat said in an interview at his shop in Rayong province. "So I decided to withdraw the offer, as a present to my mom on National Mother's Day [12 August]."
Mr. Punnawat said he didn't mean to do any harm when he set the high price for the coins last week.
"I want people to understand me," Mr. Punnawat said, insisting the price was fair given the rarity of the coins.
Naris Chaisutra, director of the Royal Thai Mint, confirmed that only 100 10-baht coins were produced in the year 1990.
Ten baht coins were first produced in 1988, but were not widely used as 10-baht banknotes were still in circulation at the time. As a result, in 1990 the Royal Thai Mint decided not to produce any more 10 baht coins for public circulation that year, but did mint 100 coins as souvenirs for attendants at the 16th Mint Directors Conference (MDC) in the UK, Mr. Naris said.
"I will have to check whether we gave away all of the coins to the participants," Mr. Naris said.
However, at least one of the rare coins has made it back to Thailand. Attanop Kaewpathumthip, architect and coin enthusiast, showed Khaosod his 1990-minted 10 baht coin yesterday.
Mr. Attanop said he first heard about the coins from an official who told him that the Royal Thai Mint director in 1990 requested a small batch of coins to be produced that year year, which immediately excited many coin collectors.
He said he did not know whether the story was true, and that not many people outside coin-collecting circles knew about the rarity of the 1990 coins at the time.
"It was confined to a narrow circle, because coin collecting trade isn't big like amulet trade," Mr. Attanop said.
In 2000, Mr. Attanop found a 1990 coin at an antique shop and decided to buy it from the shop owner, reportedly for "hundreds of thousands of baht."
Mr. Attanop said he has not seen any of the rare coins since then, but heard a rumour that 30 such coins have made it back to Thailand.
The architect added that he does not intend to sell the rare coin. He also said he does not personally know Mr. Punnawat, the owner of Panan Jewelry Store, but welcomed Mr. Punnawat's offer to buy the coins.
"I think at least this incident helped raise interest in coin collecting for the public," Mr. Attanop said. "It makes them see that coins in their pockets can be worth a lot. It creates an interest in antiques among younger generations."