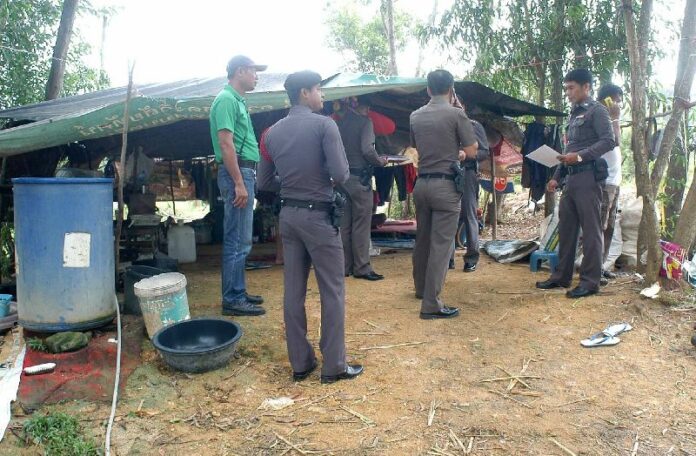 SONGKHLA – A combined task force of military and police officers in Songkhla province have vowed to take action against elephant handlers who bring elephants into urban areas to help beg for money from tourists.
The elephant handlers, known as mahouts, bring the animals into Hat Yai's shopping districts to persuade tourists to buy sugar cane for the animals, said Pol.Col. Passakorn Klanwan, commander of Hat Yai Police. He believes that four groups of mahouts in the Hat Yai area are involved in the business.
According to Edwin Wiek, the founder of the Wildlife Friends Foundation Thailand (WFFT), mahouts can earn several thousand baht a day from this practice.
Pol.Col. Passakorn said he has also received reports that some of the elephants are abused by their handlers, citing a video that recently surfaced online showing two men beating an elephant on the streets of Hat Yai.
This morning, police and military officers raided an elephant enclosure near Kaew Sawang village, where they found one elephant that was reportedly used by the mahouts to beg for money downtown.
A woman in the village identified herself as the owner of the elephant and provided ownership documents to the police. Pol.Col. Passakorn said the documents are genuine, but police are still investigating the case to determine whether any illegal actions have been committed.
Pol.Col. Passakorn explained that it is difficult to prosecute the mahouts because they appear to have genuine ownership of the animals. "We can only arrest and fine them for causing annoyance to tourists and obstructing traffic," the officer said.
He added, "We will cooperate with related agencies to investigate [the cases]. If we find any illegal action, we will take legal actions right away."
There are currently no laws protecting animal welfare in Thailand, although a proposed bill is receiving "fast-track" consideration from the National Legislative Assembly.
Mr. Wiek, the founder of Wildlife Friends Foundation Thailand (WFFT), said he is hopeful that the new bill will be passed.
"Now that the military has taken over we are seeing very positive signs that they – especially Gen. Prayuth – are really in favor of protecting elephants," Mr. Wiek said, referring to Gen. Prayuth Chan-ocha, the army chief who led a coup on 22 May and is now the country's new Prime Minister.
Thailand is known as a hub for animal tourism, with abundant opportunities for tourists to pay to interact with animals like tigers, elephants, and gibbons. Yet, according to animal welfare groups like WFFT, many of these captive animals are physically mistreated and some of them have been taken by poachers from the wild.
Mr. Weik says there are currently between two and three thousand "working" elephants in Thailand.
"There are enough laws to stop this," Mr. Weik said. "It's the negligence of government officials that make people do this and get away with it."