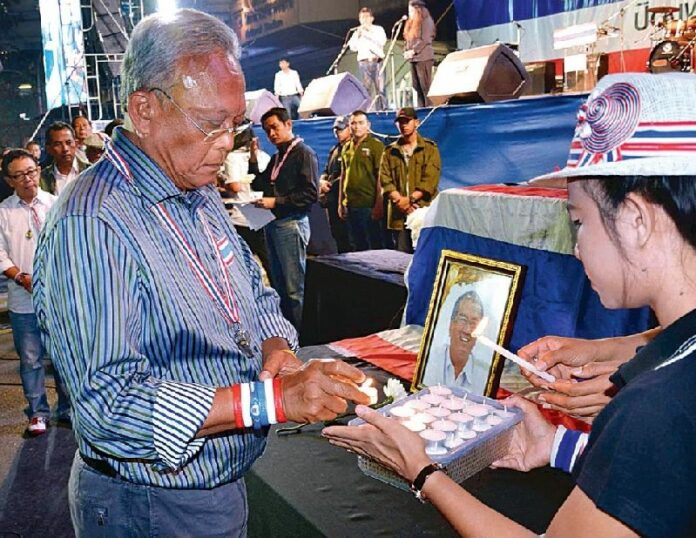 BANGKOK — A 36-year-old Redshirt demonstrator accused of murdering a Yellowshirt activist in January died in prison yesterday while awaiting trial, raising suspicions of foul play among his family and friends.
Surakrit Chaimongkol was incarcerated at Bangkok Remand Prison for allegedly shooting and killing Suthin Tharatin, a core leader of the People's Committee for Absolute Democracy With the King As Head of State (PCAD) who was leading a rally to disrupt voting near a polling station in Bangkok's Bang Na district on 26 January.
According to director of the Corrections Department Wittaya Suriyawong, Mr. Surakrit had an asthma attack on 28 August. Although officials rushed him to hospital immediately, Mr. Surakrit died that evening, Mr. Wittay said.
Mr. Wittaya said police officers, attorneys-general, and physicians will jointly perform an autopsy on Mr. Surakrit to determine a clear cause of death "soon."
"Let me stress that he wasn't harmed by anyone." Mr. Wittaya said.
Sorasith Chongcharoen, director of Bangkok's Remand Prison, admitted that Mr. Surakrit had no previous history of asthma, but insisted that the suspect died of a medical condition and not because he was mistreated in any way.
"During his time in prison, Mr. Surakrit had no problem with other inmates, and he was never harmed," said Mr. Sorasith.
However, Mr. Surakrit's mother, Arie Chaimongkol, said she is concerned about the cirucmstances of her son's death.
"I feel very suspicious," Ms. Arie told Khaosod. "I don't believe he died because of medical condition."
According to Ms. Arie, when she visited her son in prison on 21 August he told her feared for his life because a certain individual threatened to kill "every Redshirt" in the jail.
Mr. Surakrit also told her he was coerced by unidentified individuals in prison to confess about his actions and reveal the names of the people who commanded him to commit the alleged murder.
She added that Mr. Surakrit previously requested a release on bail, but was denied by the Criminal Court.
Thai prisons are notorious for overcrowding, unsanitary conditions, and abuse by other inmates and prison guards. Human rights activists have also criticised the practice of denying bail to political prisoners and housing them in the same facilities as convicts of violent crimes.
In 2012, a 64-year-old man charged with lese majeste (insult of monarchy) died in prison while waiting for an appeal, reportedly due to his poor health. Ampon Tangnoppakul was sentenced to 20 years in prison in 2011 for allegedly sending a series of text messages to the secretary of then-Prime Minister Abhisit Vejjajiva that contained remarks critical of the Thai monarchy.
Mr. Ampon insisted that he did not even know how to use a mobile phone.