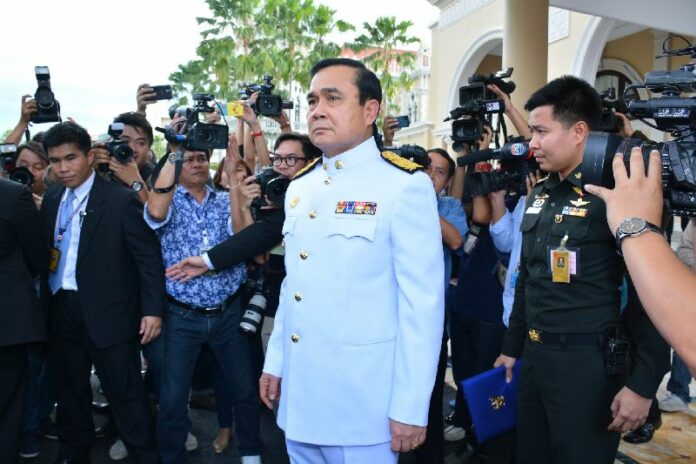 BANGKOK — Thailand's military junta leader and Prime Minister Prayuth Chan-ocha took his new Cabinet ministers to Siriraj Hospital yesterday to take oaths before the King of Thailand, who reportedly did not give a speech as is tradition.
"His Majesty the King did not give any speech," said Deputy Prime Minister Visana Krua-ngam.
King Bhumibol usually gives a brief, scripted speech to newly sworn-in Cabinet members and Prime Ministers.
It was the first time the 86 year old monarch has made a public appearance since he was admitted to Siriraj Hospital earlier this month, reportedly for an annual medical examination.
His Majesty previously spent several years at Siriraj Hospital to undergo surgeries and other medical operations. Prior to his most recent hospital stay the King Bhumibol was recovering at his summer retreat, Klai Kang Won Palace.
On his birthday last year, 5 December 2013, His Majesty the King appeared to struggle through a speech given to an audience of government officials and military commanders. An official later explained that it was normal for an elderly person to have difficulty reading a script.
His Majesty the King's health is a cause of anxiety for many Thais. The monarch has been on the throne for more than 60 years and is widely credited with bringing stability to the kingdom.
First Cabinet meeting next week
Prime Minister Prayuth, who also chairs the junta's National Council for Peace and Order (NCPO) and serves as commander-in-chief of the Royal Thai Army, said the new Cabinet will meet for the first time on 9 September.
Prior to the formation of the new interim government, Thailand was under the sole rule of the NCPO, which seized power from the elected government on 22 May.
Yet nearly one-third of the new Cabinet members are former or active military officers, and the NCPO has retained the power to unilaterally intervene into government affairs at any time.
Asked by a reporter yesterday how he felt about leading the nation's semi-civilian government, Gen. Prayuth replied, "I feel that I have to work hard from now on."
For comments, or corrections to this article please contact:[email protected]
You can also find Khaosod English on Twitter and Facebook
http://twitter.com/KhaosodEnglish
http://www.facebook.com/KhaosodEnglish