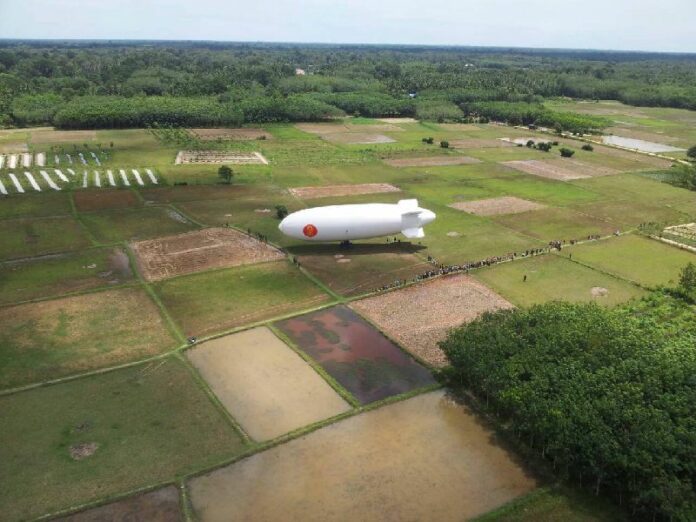 PATTANI — The Royal Thai Army's 350 million baht surveillance airship was forced to make an emergency landing after it was re-launched yesterday morning following four years of repair.
Eyewitnesses in Pattani province's Yarang district said they saw the airship spinning in the sky at around 11:30 am before it descended onto a rice field, assisted by two helicopters and one small plane.
Over 50 security officers later arrived at the landing site and provided assistance to the two pilots who were manning the airship. 
An official said the airship, nicknamed the "Sky Dragon," had been flying over the area since yesterday morning as a part of a surveillance mission conducted by the 15th Infantry Regiment. According to the official, the airship had to make an emergency landing because of the "strong wind" and was not damaged in the landing. 
Prior to yesterday's re-launch, the Sky Dragon was under repair for four years after it ceased to function only weeks after the Thai army purchased the airship for 260 million baht from the US-based Worldwide Aeros Corp in 2009. The Thai army also fitted the aircraft with 90 million baht worth of surveillance and communication devices, claiming it would help security forces monitor the three southern border provinces where Islamic separatists have been waging a bloody insurgence for a decade.
The four year repair effort reportedly cost 100 million baht. 
The army has repeatedly refused to decommission the airship, despite criticism from security experts who have questioned the strategic value of the aircraft and the high costs required to maintain it. 
The Thai army, which has a long history of corruption, has also been criticised for its 630 million baht purchase of phony GT200 bomb detectors from a British conman, which were also used in Thailand's restive south.