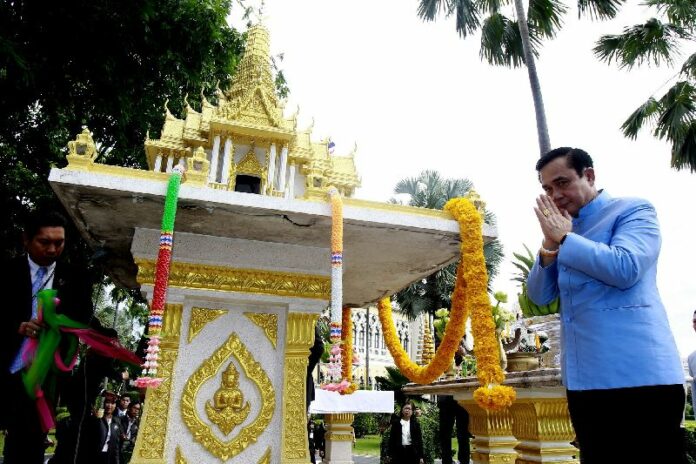 BANGKOK — Thailand's new Cabinet ministers moved into their offices inside the newly-renovated Government House this morning on a date considered auspicious by many Thais.
The day, 9/9/2014, is considered lucky because the Thai word for "nine" sounds similar to the Thai word for "progress."
Upon arriving at the Government House this morning, junta chairman and Prime Minister Prayuth Chan-ocha made the rounds to several different shrines and altars in the compound to pray for blessings.
Over 300 security officers patrolled the area, assisted by several bomb sniffing dogs. Members of the press were not allowed inside the main buildings of the complex.
After the junta dissolved the former government in May, the Government House went under several months of renovation during which plants and furniture were realigned in accordance with the principles of feng shui. The renovation effort was briefly stalled after construction staff reported encountering 'spirits' inside one of the buildings.
New technological equipment, including nearly two hundred microphones costing 145,000 baht each, were are also installed during the renovation.
Amphon Kittiamphon, secretary-general of the Cabinet, said Gen. Prayuth and his Cabinet will be briefed on administrative and procedural issues today, such as how to work with the interim government's National Legislative Assembly (NLA).
The junta's governing body, the National Council for Peace and Order (NCPO), of which Gen. Prayuth is still the chairman, will also brief the Cabinet about its achievements over the past three months, Mr. Amphon said.
Today marks the official ascension to near-absolute power by Gen. Prayuth, who is also commander-in-chief of the Royal Thai Army in addition to Prime Minister and NCPO chairman. Under the 2014 interim consitution, Gen. Prayuth retains the authority to unilaterally intervene in government affairs through his position as leader of the NPCO.
Gen. Prayuth is the first individual to command such concentrated power over Thailand's national administration since 1971, when Field Marshal Thanom Kittikachorn installed himself as Prime Minister, chairman of Revolutionary Council, and commander of the armed forces.
Officials say Gen. Prayuth will retain his post as army chief until his retirement in October.
Col. Sirichan Ngathong, a spokesperson of the NCPO, said yesterday that Gen. Prayuth's new roles will not cause any conflicts of interest.
"No matter which hat the NCPO chairman wears, he will always uphold the interest of the greater good," said Col. Sirichan.