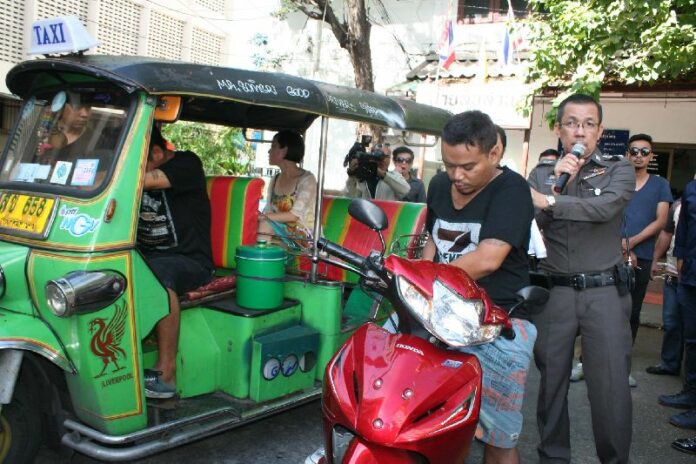 BANGKOK — A tuk-tuk driver and a motorcyclist allegedly conspired to rob two Chinese tourists in downtown Bangkok on Sunday, the latest in a spate of crimes committed against foreign tourists in recent weeks.
According to Pol.Col. Ruechakorn Jornjewut, two Chinese tourists in their early 30s hailed a tuk-tuk from the popular tourist area of Khaosan Road to their hotel near Victory Monument on Sunday. The tuk-tuk was reportedly driven by Jonglak Sarapat, 36, a native of Roi Et province, Pol.Col. Ruechakorn said.
As the tuk-tuk slowed down near Mahanakorn Road, a motorcyclist sped past the vehicle and snatched a Louis Vuitton bag from one of the tourists, the officer said.
The tourist reportedly grabbed the motorcycle by its back railing and struggled with the driver for 15-20 metres before the motorcycle was eventually brought down. The commotion drew attention from other motorists including Nakrit Suwannalert, a taxi driver who came to the rescue of the tourist, Pol.Col. Ruechakorn said.
The tuk-tuk driver reportedly kept driving for a short while before dropping off the other tourist, who left her belongings behind as she rushed to escape. After reuniting the pair sought help from the police.
Police officers arrested the motorcyclist, 33-year-old Ekkapol Sankhthung, shortly after the alleged robbery took place. Mr. Ekkapol reportedly confessed to planning the robbery with the tuk-tuk driver, who was later arrested. Police raided his residence and recovered the tourist's belongings.
According to Pol.Col. Ruechakorn, the two suspects confessed to robbing female tourists in this manner two other times before they were caught on Sunday.
"When [Mr. Jonglak] picked up foreign female tourists, he would tell Mr. Ekkapol to follow him on motorcycle. When they reached an empty road, Mr. Jonglak would slow down the tuk-tuk and make it easy for the robbery to happen," Pol.Col. Ruechakorn said at press conference today.
Mr. Ekkapol and Mr. Jonglak said they needed the money to provide for their families.
However, police records show that the pair was previously arrested on narcotics charges, Pol.Col. Ruechakorn said.
"The confession that they committed the crime because they needed to take care of their babies is just an excuse," the officer said, adding that Mr. Ekkapol and Mr. Jonglak may have committed more crimes than they admitted to.
The pair has been charged with robbery that lead to the physical and mental harm of others, robbery using vehicles, and robbery at night time.
Although Thailand is generally regarded as safe place for foreign travelers, there have been a string of crimes against tourists in recent weeks. On Sunday night, three Taiwanese tourists were allegedly robbed by armed suspects near the popular resort town of Pattaya, and on 3 September a Chinese tourist was reportedly robbed in the same area.
In late-August, another Chinese tourist was physically assaulted and robbed by a taxi driver on her way to Bangkok's Don Mueang Airport.