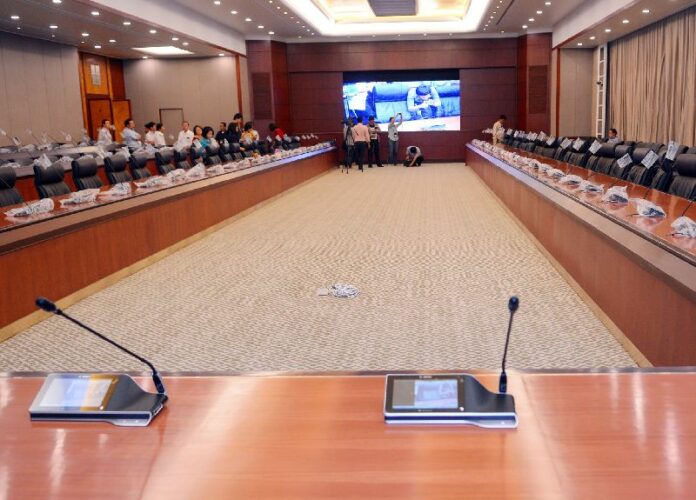 BANGKOK — As Thailand's interim Cabinet ministers moved into their offices in the Government House today, questions about the recent 67 million baht renovation of the Cabinet room continue to loom large.
News outlets and social media users are demanding answers about the pricey sound equipment, which was installed during the recent renovation of the Government House in Bangkok.
Thailand's new Cabinet, a third of who are military men, were appointed by coup leader and Prime Minister Gen. Prayuth Chan-ocha last week and moved in to their offices in the Government House today.
Critics are focusing on the microphones, which were purchased by Thai officials for at least 145,000 baht each according to a number of media reports, though an analysis by Matichon placed the figure at 157,000 baht per piece. Officials said they bought a total of 192 microphones for the Cabinet meetings.
Suspicions were further raised after the Thai supplier of the microphones, Bosch, changed the price of the equipment from 99,000 baht to 199,000 baht several days after the criticism started to mount.
Critics of the 22 May military coup are using the scandal to ridicule Prime Minister Gen. Prayuth, who has repeatedly said his military regime will banish government corruption.
Minister of the Prime Minister's Office Panadda Diskul initially defended the expensive audio system, arguing that the high-tech equipment is used by the White House and comes with anti-wiretapping devices.
Mr. Panadda later backtracked and distanced himself from the purchases; he now claims that neither he nor the military junta was responsible for buying the microphones, blaming the decision on Government House officials instead.
Meanwhile, Tuang Antachai, a member of the National Legislative Assembly (NLA), said today that he believes the microphone scandal was disseminated by "individuals with ill intention" who want to discredit the government.
Mr. Tuang denied reports of the microphones' price tags, but refused to give a specific price.
"I don't want them to [spread] information that is not factual," Mr. Tuang said. "If an inquiry finds that the government has indeed done what the allegation says, I as an NLA member am willing to inspect the government's spending in order to promote transparency."