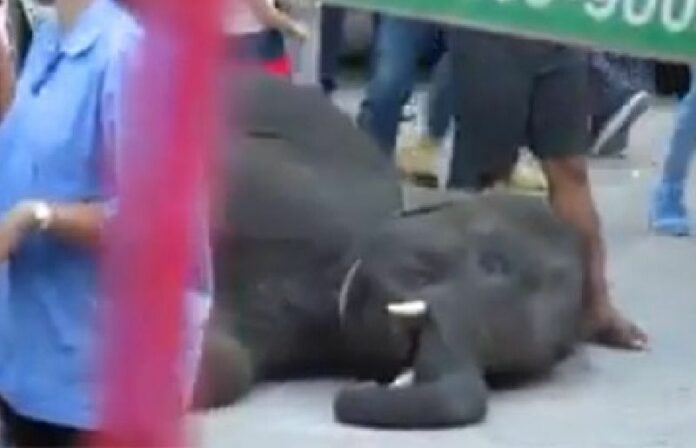 SAMUT SAKHON — A video of a baby elephant collapsing out of exhaustion in a market has spurred police to search for the elephant handlers who reportedly brought the animal into the city to beg.
The video has been widely shared on social media and ignited a wave of criticism over the practice of bringing elephants into urban areas to beg for money from tourists. Animal rights activists have been decrying the practice for years, calling it inhumane and harmful to the elephants.
The video appears to have been filmed at a market near Krathumban intersection in Samut Sakhon province, police say.
"I have ordered officers to locate the elephant and owners in connection with the video," said Pol.Col. Palat Visetsingha. "But we have not found them yet. I believe the owners or the elephant handlers took the elephant away from the area after the clip was publicized."
Nevertheless, Pol.Col. Palat said police will increase patrols in the province to make sure that no elephant handlers, or mahouts, bring their elephants into town to beg. He urged the public report any incidents of elephant begging to police immediately.
Mahouts who take their elephants into the city can face charges related to the obstruction of traffic, annoying bystanders, and animal cruelty. The latter carries a maximum of one month in prison and 1,000 baht fine, said Pol.Col. Palat.
"Those who possess unregistered elephants will also face additional charges, but mahouts in the trade of elephant begging generally have their elephants registered," the officer added.
Thailand is a hub for animal tourism, with abundant opportunities for tourists to interact with animals like tigers, elephants, and gibbons. Yet according to animal welfare groups, many of these captive animals are physically mistreated and some of them have been poached from the wild.
Some tourism-related associations, such as the Association of British Travel Agents (ABTA), advise travelers to Thailand to exercise good judgment before participating in activities that might distress an animal.
There are currently no comprehensive laws protecting animal welfare in Thailand, although a proposed bill is receiving "fast-track" consideration from the National Legislative Assembly (NLA), said Edwin Wiek, the founder of the Wildlife Friends Foundation Thailand (WFFT).
Last month, a viral video of mahouts beating a beggar elephant in Hat Yai prompted police in the area to crack down on the trade.
Read more: