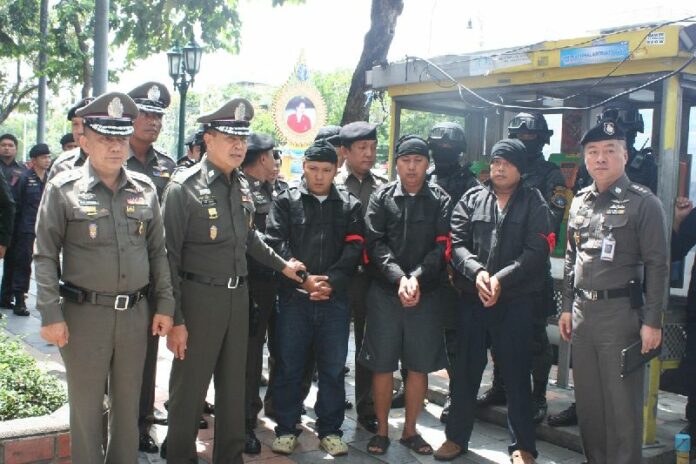 BANGKOK — The Redshirt activist who went missing after he was arrested by soldiers last week has reappeared as a suspect accused of murdering soldiers and demonstrators during the mass Redshirt protests in 2010.
Kittisak Soomsri, 47, was arrested by soldiers on 5 September and held incommunicad0 for almost a week while military denied having him in their custody, the US-based Human Rights Watch (HRW) reported on Wednesday.
However, Mr. Kittisak emerged at a police press conference yesterday where Thailand's new police chief, Pol.Gen. Somyot Pumpanmuang, identified him and four other suspects as the armed militants who fought with security forces during the mass Redshirt protests in April 2010.
The other four suspects were identified as Preecha Yooyen, Ranarit Suricha, Chamnarn Phakeechai, and Punika Chusri. Two more suspects are still at large, Pol.Gen. Somyot said.
According to Pol.Gen. Somyot, the six men and one woman are the notorious "Blackshirt" militants who allegedly shot and threw grenades at soldiers and demonstrators during clashes between Redshirt protesters and security forces around Bangkok's Ratchadamnoen Avenue on 10 April 2010.
Twenty civilians and five soldiers were killed in the clashes, including Col. Romklao Thuvatham, a high-ranking military officer who led the operation.
Police had the five suspects dress in black and wear red armbands at yesterday's press conference to illustrate their alleged identity as the "Blackshirt" militants. According to Pol.Gen. Somyot, the group was armed with an array of weapons during the clashes, including grenade launchers, hand grenades, and automatic rifles.
Pol.Gen. Somyot refused to explain the circumstances behind their arrest.
"I will not disclose how and where they were arrested," the police chief told reporters. "I cannot tell our investigation methods to other bandits out there."
Mr. Kittisak, the suspect who was considered missing until yesterday, confessed at the press conference to receiving the weapons and using them in the direction of soldiers. However, Thai police have a history of parading suspects in front of the media and extracting confessions from them that are later retracted.
In a recent case, Wiwat Yordprasit, 24, aka the Popcorn Gunman, "confessed" in a press conference to shooting at pro-government demonstrators on 1 February, 2014. Later, Mr. Wiwat said through his lawyer that he was coerced and tortured by police into making the public confession.
According to Pol.Gen. Somyot, police also uncovered a connection between the "Blackshirts" and Kritsuda Kunasen, the 26-year-old Redshirt activist who was detained without charges by the military for nearly three weeks this spring, exceeding the seven day limit for arbitrary detention under martial law.
After fleeing to Europe upon her release, Ms. Kritsuda said she was beaten by soldiers while in military custody. Thai authorities denied the allegations and accused Mr. Kritsuda of purchasing weapons and distributing them to other underground Redshirt militants who allegedly staged attacks on anti-government protesters earlier this year.
"Police have found clear evidence that she transferred money to [the Blackshirt suspects], but we cannot disclose the exact figure. I can only say that it's a lot of money," Pol.Gen. Somyot said. "They work as a network. They have a leader, they have an ideology and hatred, and they get paid for it."
Nicha Thuvatham, widow of the late Col. Romklao who was killed in the 2010 clash, thanked Pol.Gen. Somyot and the police for yesterday arresting the suspected militants.
"Their work regained my trust in justice system, which is an important part of the reconciliation process," Ms. Nicha said. "It also shows to society that the 'Men in Black' who harmed the soldiers and the civilians really did exist."
She said she hoped police would expand the investigation and unmask the mastermind behind the Blackshirt movement.
"My husband will never come back. All I have left in this world is the duty … to find justice for society, for the sake of innocent lives of civilians and security forces," Ms. Nicha said. "Truth never dies. I can wait for justice, no matter how long it takes."
Over 90 people died in clashes between protesters in security forces in 2010, the majority of whom were civilians.
Although several court inquests in recent years have identified military forces as responsible for many of the casualties of the violence, no military officers or government officials involved in the crackdown have been held responsible.
Last month, a criminal court threw out murder charges against former Prime Minister Abhisit Vejjajiva and his deputy Suthep Thaugsuban for authorizing the military crackdown. Human Rights Watch called the move "an affront to basic justice and international law."
Meanwhile, scores of Redshirt demonstrators were held in jail on charges related to the unrest, 26 of whom were convicted in the first year after the crackdown. At least two Redshirt activists were jailed for 10 months before facing trials and never compensated for their time in prison despite being eventually acquitted.