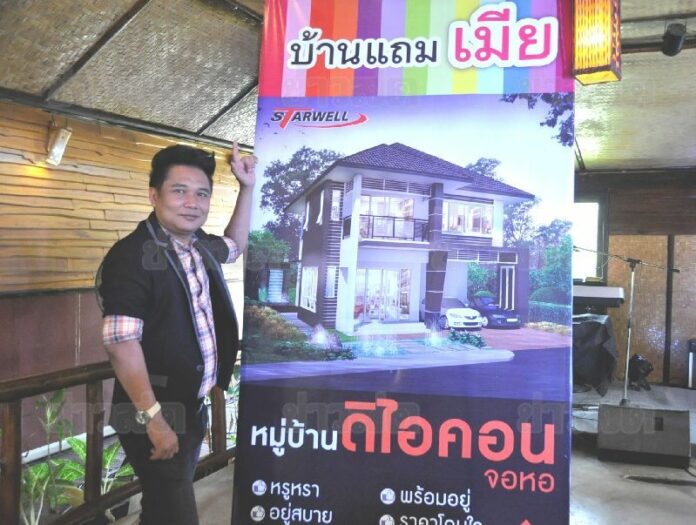 NAKHON RATCHASIMA – A business owner in Nakhon Ratchasima province has clarified his company's "Buy House, Get Free Wife" promotion following protests from women's rights groups.
The controversy concerns advertisements for The Icon housing estate in Mueang district that promised customers a "free wife" if they purchase one of the properties. Images of the banners quickly went viral on social media.
Jadet Chaowilai, director of Women and Men Progressive Movement, told Matichon the advertisement is an "insult" against women.
"It's not funny. It's madness," Mr. Jadet said. "They shouldn't use sensitive subject like human lives as marketing campaign that seeks profit like this."
Boonma Imwiset, an executive of Starwell company, which owns the The Icon project, said in a press conference yesterday that the advertisement was "misunderstood." He said the intended message was that customers could save money for marrying their partners if they bought houses from The Icon.
"I see that in the current time there are many couples who cannot marry because they lack many things, like houses, dowry money, and fees for wedding celebrations," Mr. Boonma said. "So we used this concept as a promotion, if you buy from this project, there will be a discount in cash, so you can use that money as a dowry for your girlfriend and organise a wedding. You will also have a home you can live together."
He continued, "After you are married, your girlfriend will become a wife, that's the message we want to convey."
According to Mr. Boonma, the promotion also applies to single and married customers.
Mr. Boonma then apologised to the public for the company's "confusing" advertisement.
"Some people asked us if they can really get free wives. I insisted that there's no such thing. We are not finding partners for anyone," Mr. Boonma said.
For comments, or corrections to this article please contact: [email protected]