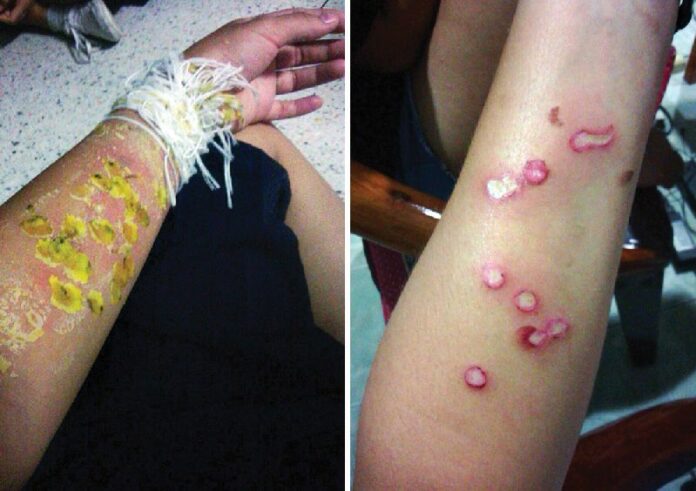 BANGKOK — A 19-year-old student filed a criminal complaint with the police after senior students burned her with candle wax during a university hazing ritual.
According to police at Samsen Police Station, the student told officers that several senior students forcefully dropped hot candle wax on her arm as a part of an initiation ceremony known as rub nong ("welcoming new brother and sisters"). The student's arm was severely burned in the process.
Police say they will contact Bangkok's Suan Sunandha Rajabhat University and charge whichever students are responsible for the burns with physical assault.
Rub nong rituals are common in many Thai universities and schools. While a number of universities opt for friendly initiation ceremonies, some schools are known for violent and abusive activities that involve assaulting students and forcing them to drink alcohol.
Brutal activities in the name of the rub nong tradition have also led to fatalities. Last month, a 16-year-old student from a vocational school in Pathum Thani province died after a night of seaside hazing.
The rector of Suan Sunandha Rajabhat University, Ruedet Kertwichai, told Khaosod that the candle incident was reportedly conducted by senior students from the Faculty of Industrial Technology.
"I don't know how many senior students are involved, and I don't know the full details," Mr. Ruedet said, "But the university is taking this very seriously. We will investigate the case in the fullest manner."
If the senior students are found guilty by the university's disciplinary committee, they will be suspended from the university, Mr. Reudet said. He also offered an apology to the student and her family.
Mr. Ruedet admitted that it is not the first time a violent rub nong ritual has occurred at the university, despite the school administration's instructions that all initiation ceremonies be conducted in a non-violent, legal, and respectful manner.
In recent years progressive student activists have campaigned to end rub nong practices, but defenders of the tradition say it helps promote the ideals of SOTUS – Seniority, Order, Tradition, Unity, and Spirit – among freshmen.
Read more: