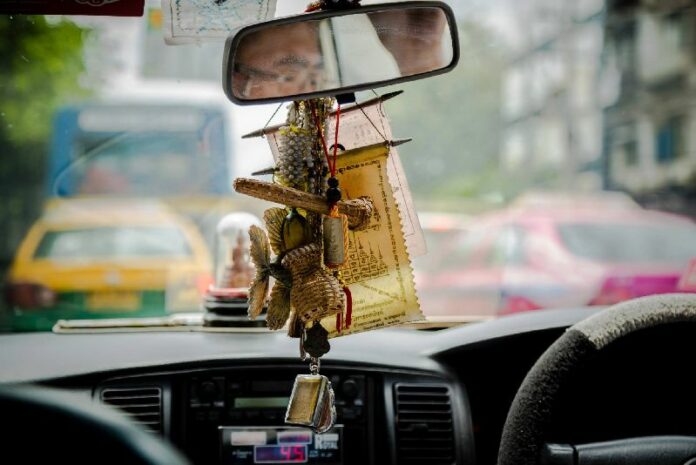 By Gerrit Phil Baumann
The Thai amulet market its a multi-billion baht industry that connects several million traders, collectors, producers, and ordinary wearers across the country. Many Thais sport amulets for their alleged supernatural powers, while others collect the objects for their value as antiques. The price of amulets can range from five baht to five million baht a piece, but to avoid tainting the sacred talismans with a commercial connotation, the official act of buying an amulet is referred to as châo prá: 'renting a Buddha image' in Thai.
Khaosod English photographer Gerrit Phil Baumann recently brought his camera to three major amulet markets in Bangkok to capture the scene. To learn more about the different types of amulets and their meaning from a Buddhist perspective, read Baumann's interview with amulet master Taan Tha Prachan.

On our way to Tha Phrachan market, the center of the believer's universe, our driver explained that the fish traps dangling below his rearview-mirror help his business attract money, while the Buddhist amulets stop ghosts from entering his taxi while he is working night shifts.

Wat Rakhang's Somdeth To, named after Thailand's patron saint, is one of the most popular amulets in Thailand associated with protective powers.

Trusting the protective power of the items surrounding him, a vendor takes a quick nap. No thief would dare to put up with the karmic consequences of stealing a sacred item.

Where there is an orginial, there quickly emerges a fake. Distiguishing original pressings from fakes has become a science in itself. A specialized branch of Thai publications are printed to help investors verify the authenticity of their purchase.

One of the oddest items we found at Tha Phrachan Amulet Market was a replica of a two-headed foetus. Kuman Thong is a child spirit that brings luck and fortune to the owner of this talisman. Its effigy traditionally relied on gruesome ingredients like roasting dead-born foetuses in a graveyard over night and then covering them with gold leaf. Today the practice strictly banned by Thai law.

Monk coins (phra rian) at Tha Phrachan street market. Many of them were made to commemorate a communual effort undertaken by supporters of the monastery, or the passing away of a famous Buddhist teacher.

Collectors in the know are aware of the irregularities that mark orginal pressings. Tiny bubbles in the alloy called khai pla (fish eggs) may help verify a certain original batch of monk coins.

Vests made from yantra, a sacred cloth printed with spells and protective chants. They come in all shapes and sizes to be worn on the body or carried in wallets.
.

Even though most of what is sold on the sidewalks in places like the Saphan Kwai are relatively low value 'fakes' or imitations, professional collectors regularly comb the tables for bargain deals, hoping to outsmart sellers who might not be aware of a treasure camping out on their table.

From a collectors perspective, most amulets are seen as an investment. Their value can increase manyfold if the items become popular.

A charm that assists making a perceived soul mate fall in love with the wearer at Wat Rachanadda Amulet Market.