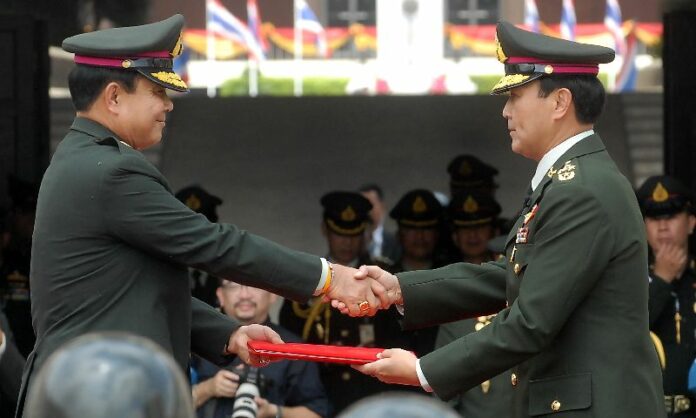 BANGKOK — There will not be another coup in Thailand, promised the new Thai army chief to replace Gen. Prayuth Chan-ocha, the leader of the 22 May coup d'etat.
"There won't be one. No," Gen. Udomdet Sitabutr said yesterday when a reporter asked whether he believes there would be another military coup. "The commanders have reached understanding with everyone. Everyone is now walking in the same direction."
In Thailand's 82 years as a constitutional monarchy, there have been twelve successful coups d'etats and a handful of failed attempts. The most recent coup prior to the military takeover this May was in 2006.
"There won't be [another coup] for sure," Gen. Udomdet stressed.
The 59-year-old general replaced Gen. Prayuth, who led the 22 May coup and is now the Prime Minister of the Thailand's interim government. Gen. Prayuth retired from his post as commander-in-chief of the Royal Thai Army yesterday.
Gen. Udomdet, who is also the Deputy Minister of Defense in Gen. Prayuth's cabinet, said the army will serve as the foundation for peace in Thailand and support the interim government "until everything is settled under the framework laid down by the Prime Minister."
He added that a top priority of the army under his command will be to "defend, preserve, and uphold the monarchy with our lives. We will not allow anyone to violate it."
Although Gen. Prayuth will no longer hold the powerful position of army chief, he is expected to retain significant influence over the armed forces in his role as chairman of the junta's National Council for Peace and Order (NCPO).
At 4 pm yesterday Gen. Prayuth paid a visit to Gen. Prem Tinsulanonda to formally bid the Head of the Privy Council and former Prime Minister farewell. Gen. Prem, who turned 94 in August, is the top adviser to His Majesty the King and an influential figure in the Thai armed forces.
The two men talked in private for about 20 minutes before Gen. Prayuth left Gen. Prem's residence. Speaking to reporters after the meeting, the retired army chief said Gen. Prem blessed him and wished him the best of luck in his endeavor as Prime Minister.