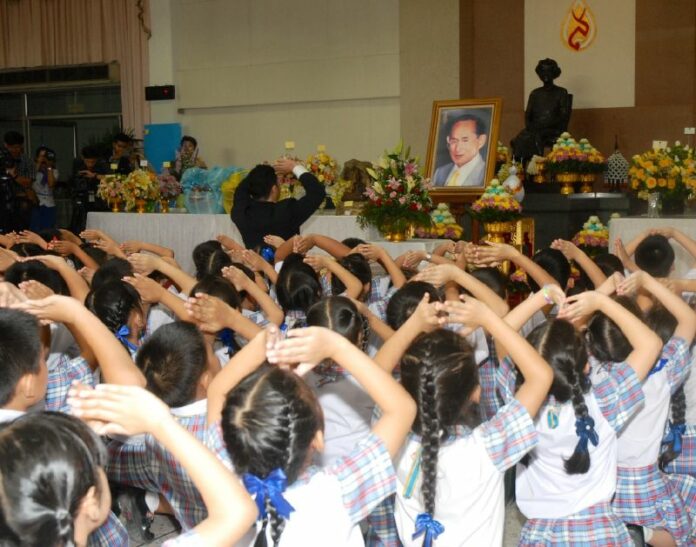 BANGKOK — Surgeons removed the King of Thailand's gallbladder last night, two days after the 86-year-old monarch was rushed to the hospital with a high fever, the palace said in a statement this morning.
According to the Royal Household Bureau, doctors at Siriraj Hospital discovered inflammation in King Bhumibol's gallbladder at around 9.45 on Sunday night. The medical team then decided to remove the organ in an operation that lasted slightly over an hour, the palace said.
"The operation went smoothly. The condition of His Majesty after the surgery is satisfactory," the statement says. "His Majesty returned to his ward at 0.20 am on 6 October."
His Majesty the King's frail health is a cause of anxiety for many Thais. The monarch has been on the throne for more than 60 years and is widely credited with bringing stability to the kingdom. By midday, Thailand's SET index was down 1.43 percent at 1,574.52.
King Bhumibol was driven to the Bangkok hospital from his summer palace in Prachuap Kiri Khan province on 3 October with a high fever and rapid heartbeat. According to the palace's statement, the surgery effectively lowered His Majesty's heartbeat rate and temperature.
The Royal Household Bureau added that doctors continue administer medicine and an intravenous drip to His Majesty the King.
Government leaders and politicians visited Siriraj Hospital today to bow before a portrait of the king on the building's ground floor and wish His Majesty a quick recovery.
The visitors included junta leader and Prime Minister Prayuth Chan-ocha, Cabinet members, and former Prime Minister Yingluck Shinawatra. Crowds of loyal Thais also visited the hospital.
King Bhumibol previously spent several years at the hospital to undergo surgery and other medical operations.