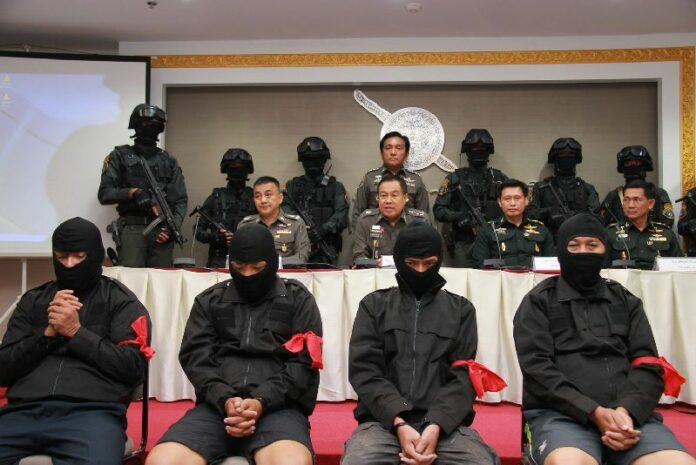 BANGKOK — The five suspects accused by Thai police of acting as armed militants in the 2010 Redshirt protests have recanted their confessions, their lawyer says.
All five suspects said they were tortured by police into confessing, their lawyer Winyat Chartmontri told reporters today.
"They could not endure any more abuse, so they confessed," Winyat said.
Kittisak Soomsri, Preecha Yooyen, Ranarit Suricha, Chamnarn Phakeechai, and Punika Chusri were accused by Thai police of belonging to the shadowy 'Blackshirt' militant cell that fought with security forces during the crackdown on Redshirt demonstrators in Bangkok on 10 April 2010.
Twenty civilians and five soldiers were killed in the clashes, including Col. Romklao Thuvatham, a high-ranking military officer who led the operation.
It is unclear when the five suspects were arrested, but chief of Thai police Pol.Gen. Somyot Pumphanmuang paraded them in front of the media in a press conference in September. The five suspects were ordered to "re-enact" their alleged crime on Ratchadamnoen Avenue. According to Pol.Gen. Somyot, all of the suspects confessed.
Winyat, the lawyer representing the five suspects, insisted that he did not intend to discredit Pol.Gen. Somyot or any other official in his petition to the Attorney-General. "I just want to present the facts to the Attorney," Winyat said.
Winyat and representatives from the Lawyers for Human Rights organisation also petitioned the Office of Attorney-General, urging the court to "give fairness" to the four men and one woman who are currently awaiting trial in prison.
The development is bound to be viewed as another blow to the credibility of the Thai police force, which has a history of extracting confessions through physical abuse and intimidation.
The investigation into the five alleged Blackshirt militants has already raised many questions, with police failing to explain exactly how the suspects were arrested, especially after it emerged that one of the suspects, Kittisak, was held incommunicado by the military for a week prior to the press conference.
The Thai police are also currently embroiled in a separate controversy over the arrest of two Burmese migrant workers accused of murdering two British backpackers in southern Thailand on 15 September.
Human rights groups have alleged that the two Burmese men were "scapegoats," tortured into confessing to the crime without proper access to an interpreter or lawyer. Pol.Gen. Somyot repeatedly denied the allegation and insisted that the two men voluntarily confessed to their charges.
Yesterday, BBC News reported that the Thai charge d'affaires in London was summoned to the United Kingdom's Foreign Office over concerns about the inquiry into the murders of two British tourists. The FCO reportedly told the Thai diplomat that there was a real concern in the UK about how the investigation has been handled by Thai authorities.
For comments, or corrections to this article please contact:[email protected]
You can also find Khaosod English on Twitter and Facebook
http://twitter.com/KhaosodEnglish
http://www.facebook.com/KhaosodEnglish