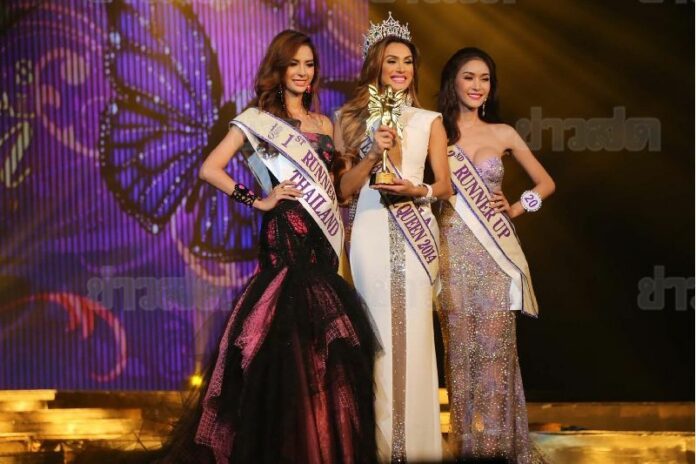 CHONBURI — A Venezuelan national was crowned winner of Pattaya's annual Miss International Queen, the largest beauty contest for transgender women in the world.
Isabella Santiago, 22, was chosen out of 21 contestants from 18 countries, including Thailand, to be Miss International Queen 2014. Organisers say the beauty contest, held for the tenth time this year, is meant to promote acceptance of transgender people around the world.
Apart from the pageant crown, Ms. Santiago also won a prize in the "Best Dress" category. Her prizes come with cash rewards totaling 440,000 baht.
Thai national Nitsa Ketrahong, a student from Bangkok's Rajamangala University of Technology, was the first runner-up, while Piyada Inthavong, from Laos, came in third.
The pageant was held at the Tiffany Show theatre in Pattaya, which regularly hosts shows featuring transgender performers. The contest is known for launching Treechada "Poy" Petcharat, one of Thailand's most well-known transgender women, into fame after she was crowned a winner in 2004.
Thailand is known for its relatively relaxed attitude toward LGBTs compared to more conservative nations in the region like Malaysia and Myanmar, though gay marriage remains unrecognised by law. Human rights activists also note that many LGBTs still suffer from routine discrimination in Thailand.
Among the panel of judges who sat at the Miss International Queen pageant this year was Seri Wongmontha, a conservative transgender writer and TV host who campaigned against former Prime Minister Yingluck Shinawatra during the anti-government protests that started in December 2013 to and lasted until the coup on 22 May of this year.
Earlier this week, Seri lashed out at a lesbian couple who was filmed kissing on Bangkok's public skytrain, calling their behavior incompatible with Thai tradition. The video went viral and spurred a heated debate about discrimination and whether public displays of affection should be tolerated in public.
"It is highly inappropriate. We are Thais, we have noble customs and traditions," Seri said in an interview with Daily News on 4 November. "A man and woman doing it is already inappropriate. When lesbians do it, it's even worse, in my opinion."
Seri added, "I would like to warn all Thai youth in the present time to think about what is appropriate and suitable before they do anything. They cannot claim that it's about individual rights."
For comments, or corrections to this article please contact: [email protected]
You can also find Khaosod English on Twitter and Facebook
http://twitter.com/KhaosodEnglish
http://www.facebook.com/KhaosodEnglish