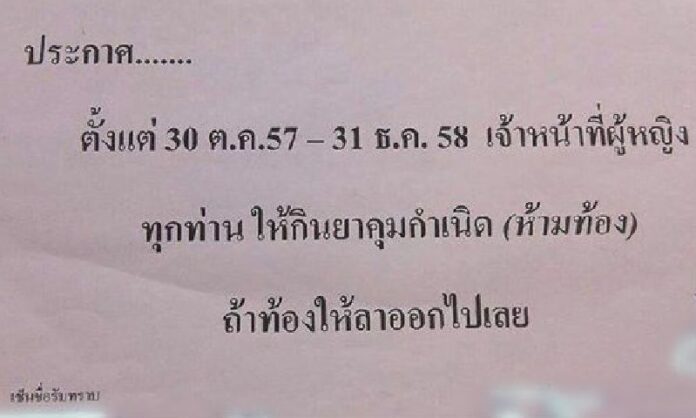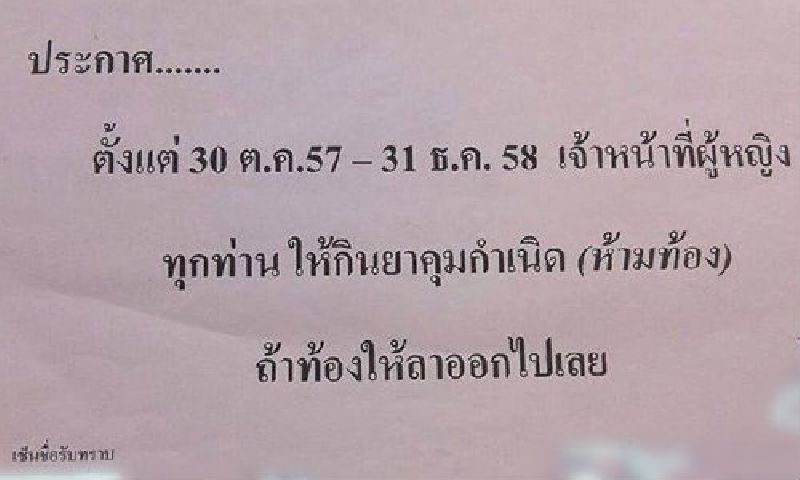 BANGKOK — The director of a public hospital in Bangkok says he has retracted an order that threatened to fire pregnant employees.
The memo, which was allegedly posted at Rajavithi Hospital's pharmacy department and signed by more than 30 employees, reads:
"Announcement: From 30 October 2014 – 31 December 2015, all female officials have to take contraceptive pills. Do not get pregnant. If pregnant, quit your job."
A photo of the announcement taken by a disgruntled employee recently went viral on social media, where it drew strong criticism over the perceived prejudice of the hospital's administration. The order also contradicts Thailand's labour laws, which allows 90 days of maternal leave to employees.
In response to the controversy, Rajavithi Hospital director Udom Chaowarin said he has cancelled the order, which only ever applied to one department. It was never endorsed as an official policy by the hospital directors, he said.
According to Udom, the supervisor of that deparment, whose workforce is almost "100 percent" women, was worried that too many pregnancies at the same time would cause a labour shortage.
"The supervisor came to an agreement with other officials in the unit, but I believe there has been some miscommunication along the way," Udom told Khaosod today, without specifying which department the order belonged to. "There was some discontent, and it has escalated into this issue."
He added that the supervisor has already been reprimanded for issuing the order without approval by the administrative office.
"We informed the person that such prohibition is unacceptable, because it violates human rights," Udom said. "We understand that was done out of good intention to solve the department's worker shortage. We have already cancelled the order."