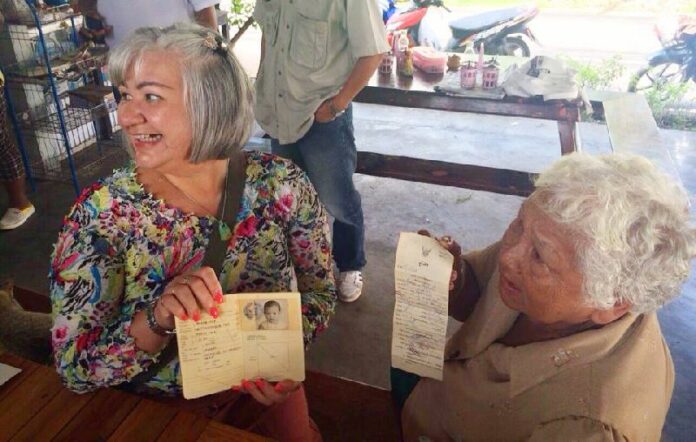 PHUKET – A Thai-born Briton was finally reunited with her mother after 54 years of separation in Phuket province today.
Kimberley, 54, and her mother, Yokluen Chankaew, 79, hugged each other for this first time in more than five decades this afternoon, which was arranged by local administrators.
Kimberley was born in Ta Kua Pa district of Phang Nga district in 1960 to Yokluen and an Australian manager of a mine in the province. Kimberley's birth certificate identified her as Tukta Chankaew, the Thai name her parents gave to her.
Yokluen said a British engineer who worked for the mine and his wife later asked to adopt Kimberley when she was four years old. Yokluen told reporters she decided to give up Kimberley, then known as Tukta, to the engineer because she was living in poverty.
"I thought I could not raise her up into a comfortable life," Yokluen said, adding that the British engineer and his wife, who were childless, soon left the country for the United Kingdom, and she never heard from them again.
Yokluen said she was surprised to be told by a local official that she was going to meet Kimberley again after over 50 years of silence. "I didn't expect at all that I would see my daughter again," she said emotionally.
Kimberley said she had been aware during the past 30 years that her biological mother was a Thai woman, but did not know how to find Yokluen. In September, she decided to travel to Thailand for the first time to look for her mother.
Her quest ran into obstacle when she committed a common foreigners' mistake, confusing the name of Phang Nga province on the Andaman Sea with Pha Ngan island in the Gulf of Thailand.
"I ended up on Pha Ngan, but luckily a clerk at the hotel where I stayed on Pha Ngan gave me a lot of help and sought out all the information," Kimberley said.
The clerk, Kingkaew Yoobhakdee, got in touch with local administrators in Phang Nga, who in turn found that Yokluen had moved from Phang Nga to the neighbouring province of Phuket.
After several months of tracking down Yokluen's residence, the officials finally arranged the meeting between the Thai woman and her long-lost daughter today.
For comments, or corrections to this article please contact: [email protected]
You can also find Khaosod English on Twitter and Facebook
http://twitter.com/KhaosodEnglish
http://www.facebook.com/KhaosodEnglish