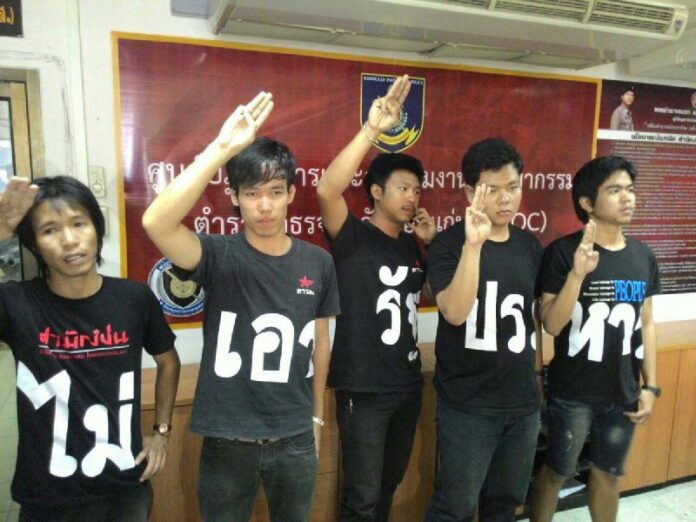 BANGKOK – The chairman of Thailand's military junta has dismissed calls for democracy from student activists who were arrested for protesting against his iron-fist regime.
"I am not an enemy of anyone, but I'd like to ask all of you not to obstruct my works. I am willing to listen to all opinions. The students may send me what they have in mind," Gen. Prayuth Chan-ocha, who also serves as Prime Minister, said at the press conference today.
However, he quickly added, "But don't ask me for democracy. Don't ask me for an election. I cannot give you that."
Gen. Prayuth was referring to five student activists from Khon Kaen University who were detained by the military for interrupting his speech on 19 November and flashing the forbidden "three finger salute," a gesture of defiance Thai anti-coup activists have adopted from the film "Hunger Games."
The students said in a statement that they were protesting the 22 May military coup, led by Gen. Prayuth, which they view as a setback to Thailand's democracy.
But Gen. Prayuth suggested today that their quest for democracy may be pointless: "It may not be hundred percent democracy, but I want to ask you, what can the country possibly gain from a hundred percent democracy? Go and find me the answer."
Gen. Prayuth has previously promised that a national election will be held in 2015 if national "reconciliation" and a series of "reforms" are completed first.
The junta leader also criticised the media for reporting about the three-finger salute and other anti-coup activities in the past few days.
"The media has to assist me," Gen. Prayuth said. "The media has two duties. One is to explain the situation and create understanding with the people, with some critical reporting and criticism. But you also have the duty to support the missions of this government. If you keep saying, that thing is [protesting] this thing, we won't get anywhere. All the good things that I have done would have been in vain."
When a reporter asked if the media is still permitted to criticise him, Gen. Prayuth, who is known to be hostile to the press, responded angrily, "What have I done wrong? Tell me!"
Gen. Prayuth, who is wielding a near-absolute power as Prime Minister and junta leader, frequently portrays himself as a champion of Thai people who reluctantly led the 22 May coup to restore peace and order to the country amid upheaval caused by anti-government protests at the time.
Following his military takeover six months ago, Gen. Prayuth has banned any public protests against his regime, censored the media, and ordered the brief detention of hundreds of politicians, activists, and academics deemed sympathetic to the previous government.
For comments, or corrections to this article please contact: [email protected]
You can also find Khaosod English on Twitter and Facebook
http://twitter.com/KhaosodEnglish
http://www.facebook.com/KhaosodEnglish