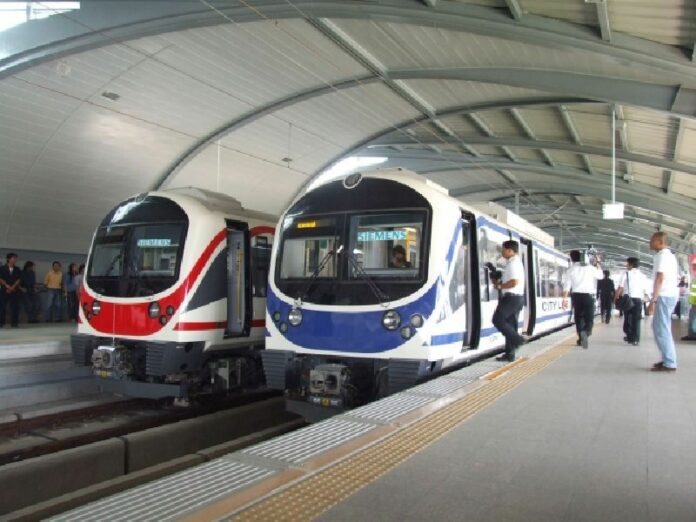 BANGKOK – The Thai military government has approved the construction of a 210 kilometre rail link that would connect Bangkok's two airports with another airport in Rayong province.
The project is the extension of the current rail link that runs between Suvarnabhumi Airport and downtown Bangkok, said Air Chief Marshal Prachin Chantong, Minister of Transport and a member of the Thai military junta.
Under the new plan, the rail link will also include Don Mueang Airport in northern Bangkok and U Ta Pao Airport in Rayong province, east of the capital city, ACM Prachin explained. Though lesser known than Bangkok's two airports, U Ta Pao is frequented by chartered flights carrying mostly Russian passengers to the nearby resort town of Pattaya.
According to ACM Prachin, the construction will be divided into two phases: the 20-kilometre rail link between Phayathai BTS Station and Don Mueang Airport will be built first, followed by the 190-kilometre railway between Lat Krabang Rail Link Station and U Ta Pao Airport.
The government is planning to include Pattaya, a popular tourist destination on the Gulf of Thailand, as one of the six stops in Lat Kra Bang – U Ta Pao Rail Link, ACM Prachin said.
The first phase of the plan will cost approximately 29 billion baht, while the cost of the second phase is still undisclosed, as the government has not yet finalised the exact route of the rail link, ACM Prachin said. The construction will begin by "the end of next year" at the earliest, he said.
The Minister of Transport added that the government still has to negotiate with the Royal Thai Navy, which co-owns U Ta Pao Airport with the civilian aviation authority, about the details of the rail link project.
"We have to discuss the matter with the Navy because we have to study the area closely if we are to develop U Ta Pao Airport a fully-commercial airport," ACM Prachin told reporters, "How much of the space can be developed commercially? How much of space can we designate as terminal buildings and hangars? We will conclude these studies as soon as possible."
The extension plan came amid reports that the service at Suvarnabhumi – Phayathai Rail Link has been significantly reduced, with nine trains removed from the rail for year-long maintenance. However, ACM Prachin insisted that the number of passengers served by the rail link has in fact increased in the past few months.
For comments, or corrections to this article please contact: [email protected]
You can also find Khaosod English on Twitter and Facebook
http://twitter.com/KhaosodEnglish
http://www.facebook.com/KhaosodEnglish