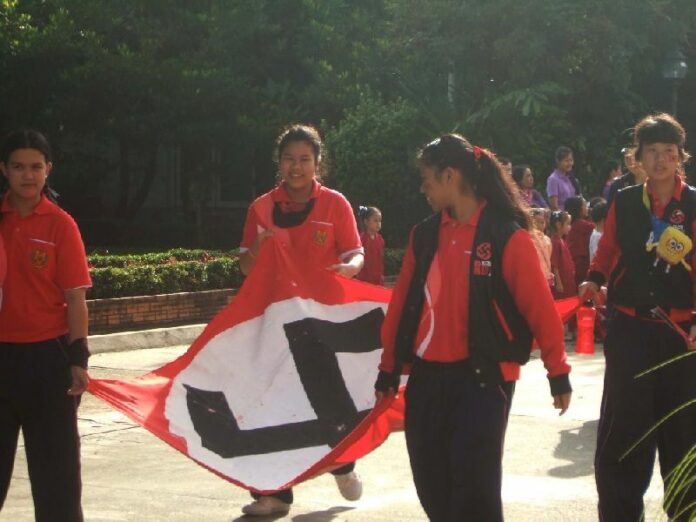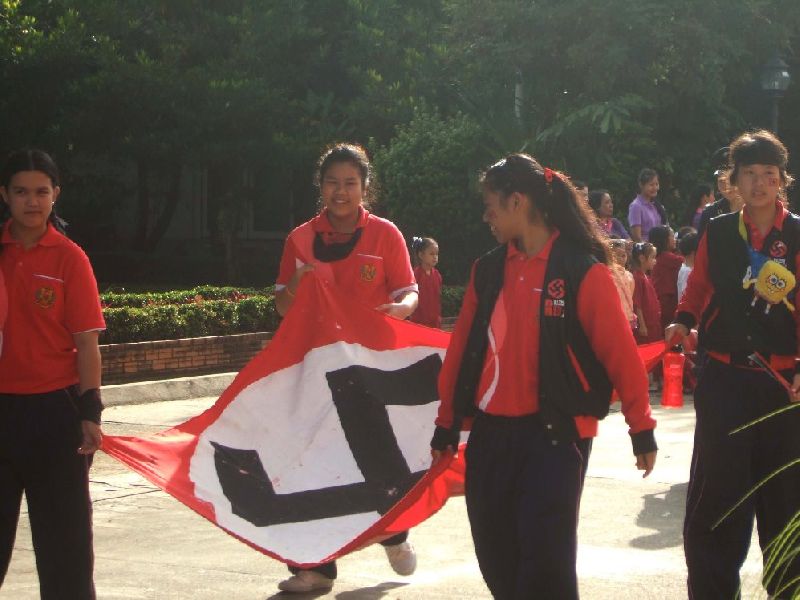 BANGKOK — A Thai director has defended a scene of schoolchildren painting and applauding a picture of Adolf Hitler in his short film, which was commissioned by Thailand's ruling military junta.
The short, called "30," is a part of "Thai Niyom (Thai Pride)," a 12-part film that portrays Prime Minister and junta leader Prayuth Chan-ocha's teachings, known as the "Twelve Values."
The film was produced by the Office of Prime Minister and screened for free in cinemas across the country on 6 December.
During the animated intro to "30," the segment depicting Gen. Prayuth's seventh value, "Learn about democracy," a schoolboy is seen painting a portrait of Hitler, which his classmate then applauds. There are no other references to the German dictator in the film, which goes on to illustrate a lesson about cheating.

A screen shot of "30" from the state-sponsored film "Thai Niyom."
"I didn't think it would be an issue," the director of the short film, Kulp Kaljaruek, told Khaosod after a clip of the scene went viral on the internet and attracted criticism.
"As for Hitler's portrait, I have seen so many people using it on T-Shirts everywhere. It's even considered a fashion. It doesn't mean I agree with it, but I didn't expect it to be an issue at all."
Hitler is often treated as a pop cultural icon in Thailand, where many people are not aware of the atrocities he committed during the Second World War. T-shirts, handkerchiefs, and other memorabilia bearing Hitler's portrait and Swastikas are commonly sold in markets across Thailand, which fought with the Axis powers during the war.
"[Hitler] is the character of this child," Kulp explained, referring to the protagonist in the short film: a spoiled, wealthy schoolboy who always gets his way. "He's always been 'number one,' and he's selfish."
"Hitler is also a 'number one,' in a bad way," Kulp continued. "He was good at persuading a lot of people, but he refused to listen to the majority. He was always arrogant. That's why the war happened."
When asked whether "30" was an attempt to poke fun at Gen. Prayuth's Twelve Values in a subversive way, Kulp insisted that he did not intend the film to be political at all.
"I don't want to convey anything," said Kulp, who has worked on another state-sponsored film honouring the Thai monarchy. "I didn't want to have anything to do with politics. I didn't want my film to affect anyone."
Kulp is also a manager at Kantana Group, one of the largest television and film production companies in Thailand, which is owned by his father.
The Office of Prime Minister recruited 12 different directors to work on "Thai Niyom" in October after Gen. Prayuth called for a film to promote Thailand's "national identity." The film was also meant to commemorate the 87th birthday of His Majesty the King on 5 December.
Gen. Prayuth's Twelve Values, which he bestowed to the public in July, have already been rendered into a poem that students at public schools are required to memorise.
Col. Sansern Kaewkumnerd, spokesperson of the Office of Prime Minister, admitted that he has not had time to see the film, but offered a possible explanation of why the Hitler cameo was included.
"If I were to make an uneducated guess, it may have been intended to say that democracy has good and bad sides," Col. Sansern said.
The original video of "30" was pulled from YouTube shortly after Khaosod English pointed out the Hitler scene on social media. Both Kulp and Col. Sansern said they do not know anything about the removal of the video, which has since been made available on other sites.
On Wednesday, the Israeli ambassador to Thailand, Simon Roded, said he was "deeply saddened" to see the "trivialization and misuse" of Nazi symbols in an official Thai government film.
"Hitler and the Nazi regime were responsible for a systemic, horrific and racist murder of 11 million people during the Holocaust," the ambassador said in a statement released by the Israeli Embassy in Bangkok.
"I was surprised that throughout the screening process this movie must have gone through to be approved for public broadcast, none of the smart, well educated people checking it had identified it as being problematic and offensive."
The ambassador went on to note that this is not the first time the Israeli Embassy has encountered "ignorance of the history of the Holocaust" in Thailand.

A Nazi-themed parade at Sacred Heart School in Chiang Mai, 2011 [Simon Wiesenthal Center]
In 2011, a Nazi-themed sports parade at a Catholic school in Chiang Mai province sparked outrage and prompted the Israeli Embassy in Bangkok to protest the school's administration. In the wake of the controversy, directors at Sacred Heart School said they would increase lessons on world history.
In another recent controversy, some graduates at Chulalongkorn University – one of Thailand's top schools – posed for photos with a "Superhero Hitler" mural near the History Department. The University publicly apologised for the students' behavior, and promised to prevent any similar incidents from occurring in the future.
Speaking about the 'Hitler cameo' in "30" on Wednesday, the Israeli Ambassador concluded, "If we learn anything from this incident it is that Holocaust education, especially its global messages of tolerance, should be introduced into the Thai curriculum."