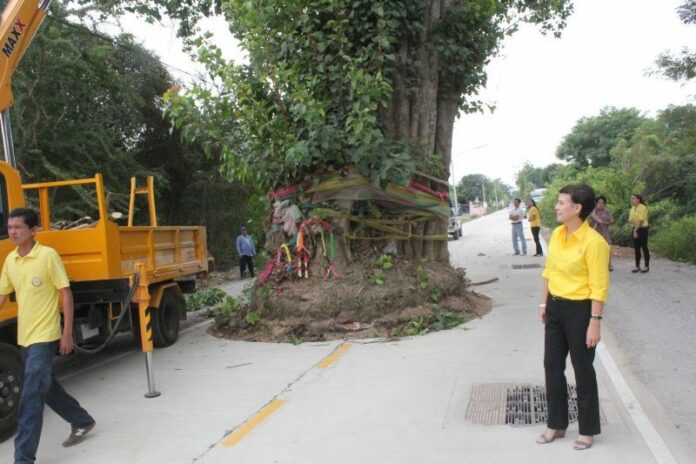 KANCHANBURI — Local officials say they cannot remove a tree that blocks a thoroughfare in Kanchanaburi province because it is believed to possess spiritual powers.
Many motorists have complained about the Bodhi tree, which takes up a significant portion of the road in Thamaka district, officials said.
However, the tree cannot be cut down because locals believe it is sacred and possesses spirits that could harm the workers, the director of Thamaka Municipality explained today.

Thamaka district, Kanchanaburi.
"The villagers believe that Bodhi is the type of tree that Lord Buddha sat under when he attained Enlightenment. It's something villagers respect, so we respect that too, because we are also Buddhists," Thamaka Municipality director Abhisama Bhodharamkul told Khaosod. "In the past, someone tried to cut it down but went insane instead. Another person tried to use a backhoe to clear it but the vehicle just broke down."
According to Aphisama, the tree was there even before the road was paved.
"The Bodhi tree stood in the middle [of the dirt road], and locals always travel on the sides," she said.
She added that local residents regard the tree as "lucky" because many of those who have prayed to the Bodhi tree have had their wishes granted.
"It's a holy tree," said Siriwan Siriwaree, a 40-year-old resident in Thamaka district. "Many people asked for lucky lottery number, and they get it. Some also asked for success in their life. They say that an elder ghost is residing in that tree."
For comments, or corrections to this article please contact: [email protected]