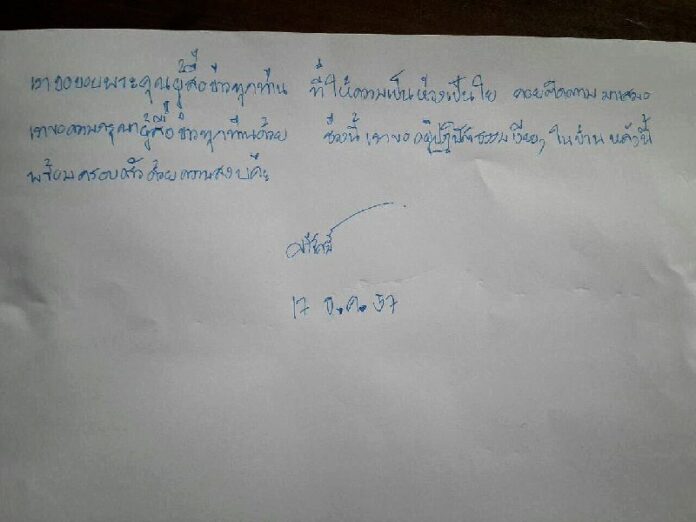 BANGKOK — The wife of Thailand's Crown Prince has asked reporters camped outside her home to respect her privacy following her resignation from the Royal Family last week.
After giving up her royal status on 12 December, Srirasmi Suwadee, formerly known as Her Royal Highness Princess Srirasmi, moved out of the Crown Prince's palace to live with her parents at their residence in Ratchaburi province. She has not been since in public since 13 December.
Today a police officer emerged from Srirasmi's residence and posted a letter that appears to have been handwritten by the former princess.
The brief note read:
I'd like to thank all of the reporters for taking kind interest and closely following [me]. But I'd like to ask for your compassion: at this moment I only want to practice Dharma quietly with my family in this house in a peaceful manner.

Srirasmi

17 Dec 57
Monks have been seen entering Srirasmi's residence in recent days, presumably to conduct religious ceremonies hosted by her family.
Yesterday, Pol.Lt.Col. Thanongsak Kaewpolnoi, superintendent of Wat Pleng Police Station, asked reporters camping outside Srirasmi's house not to disturb the former princess.
"[Srirasmi] is now a commoner, we treat her like any other ordinary citizen. There is no special treatment," said Pol.Lt.Col. Thanongsak. "But many reporters have come to cover the news, so my commander has instructed me to maintain order because sometimes they disturb the area by her house. She doesn't want to be disturbed."
Several relatives of Srirasmi came to visit her yesterday, but entered through a side door as the main gate remains locked.
A small commotion also took place when a woman showed up a the front of the gate and tried to sell a portrait of a monk for 1 million baht. Police officers promptly escorted the woman away.
Srirasmi, who married Crown Prince Vajiralongkorn in 2001, resigned from her status as a member of the Royal Family following the recent arrests of many of her relatives on charges of corruption and lese majeste.
The palace did not identify the reason for Srirasmi's decision to shed her royal status, but the announcement came a week after the Crown Prince stripped several of her family members of their royally bestowed surname, presumably in response to the ongoing scandal.
The Royal Household Bureau has not addressed the status ofPrince Dipangkorn Rasmijoti, the Crown Prince and Srirasmi's 9-year-old son.
On 15 December, Ministry of Finance confirmed that the Crown Property Bureau has also granted an unspecified sum of money to the former princess to assist her cost of living.