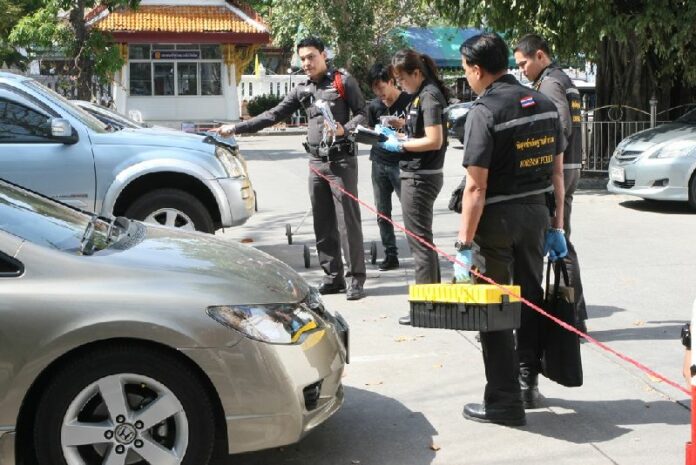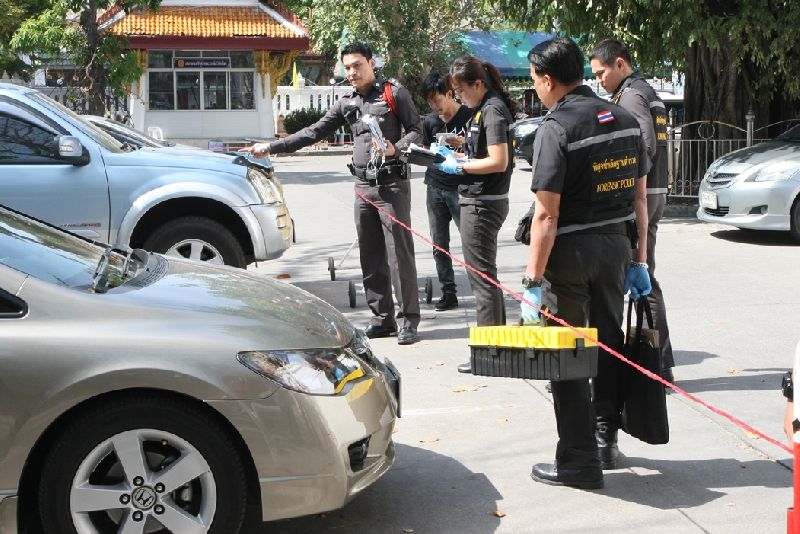 BANGKOK — A 16-hour manhunt for a police officer who murdered his ex-girlfriend came to an end this morning when he was found in his car with a gunshot to the head.
Pol.Lt. Boonyarit Ruenyen, 37, shot his 21-year-old ex-girlfriend Rungnapha Tamool point blank in front of a correctional office in Bangkok at around 8.30 am yesterday, witnesses told police.
According to witnesses, the former couple had a loud argument before Pol.Lt. Boonyarit shot Rungnapha in the head, dragged her body into his car, and drove off. Local police then launched an effort to locate and intercept Pol.Lt. Boonyarit's vehicle, but to no avail.
However, police officers in Naan province, more than 600 kilometres north of Bangkok, found Pol. Lt. Boonyarit inside of a parked vehicle in Na Muen district early this morning. The officer was found in the driver's seat with a fatal gunshot wound to the head and a revolver in his lap. Rungnapha's dead body was also in the car.
Police believe Pol.Lt. Boonyarit committed suicide when he saw police officers approaching.
Friends of Rungnapha say she started dating Pol.Lt. Boonyarit earlier this year after she was released from Klong Prem Central Prison, where she served a one-year sentence for running a prostitution ring.
However, Pol.Lt. Boonyarit was reportedly abusive and often assaulted her, prompting Rungnapha to leave him and move in with a friend in Ang Thong province.
"She couldn't stand it because Boonyarit liked to beat her and lock her up, so she ran off," said her friend, Metanee Somcheu. "Then she met a new boyfriend … but Boonyarit still showed up at my place and threatened her."
Metanee said she accompanied Rungnapha to the correctional centre in Bangkok's Phra Khanong district yesterday, where former convicts have to report to authorities after their release.
That's where they ran into Pol.Lt. Boonyarit, who reportedly tried to convince Rungnapha to move back in with him. Metanee said an argument broke out between the two, and Pol.Lt. Boonyarit shot Rungnapha in front of more than 50 former convicts who were waiting at the centre.
Police have cited jealousy as the most likely motive behind the murder.
For comments, or corrections to this article please contact: [email protected]