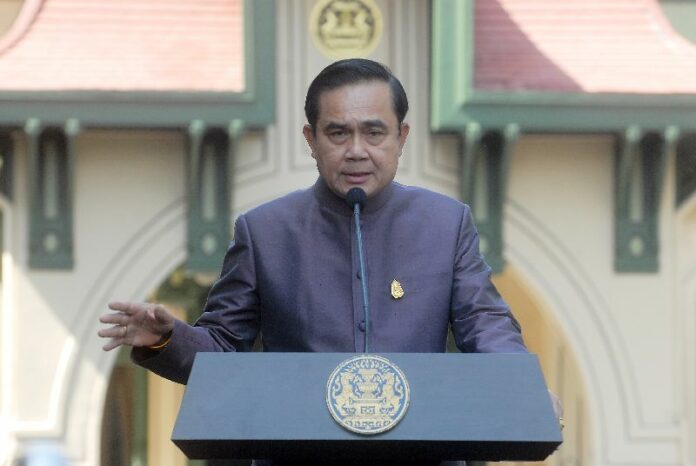 BANGKOK — Peace talks with Islamic insurgents in southern Thailand will depend on the willingness and sincerity of separatist groups in the region, junta chairman and Prime Minister Prayuth Chan-ocha said on Tuesday.
"We are ready in all aspects to organize a long-lasting peace dialogue, but the problem is: are the people who use violence to fight us ready as well? Do they want to talk about peace?" Gen. Prayuth said to reporters at the Government House yesterday.
"How many [separatist] groups are out there? If there are many groups, do all of them want to have peace with us?" Gen. Prayuth asked. "There are good people who want to have peace with us, don't worry, and violence has been decreasing these days, but as far as I know, they have not given up their fights."
In December, Gen. Prayuth met with the Prime Minister of Malaysia to discuss Malaysian-brokered peace talks between Thai authorities and rebels in southern Thailand who have been waging a bloody insurgency against the central government since 2004.
The two leaders stressed that all militant groups involved in the insurgency must cease their attacks and unite around a shared set of demands for the peace talks to go forward.
On the same day in December, dozens of banners were hung around southern Thailand questioning the sincerity of Thailand's military government.
The banners, which were written in Thai, English, and Malay, read: "Is it appropriate to negotiate with the coup government? There is no guarantee for sincerity."
The near-daily bombings and gun attacks that have plagued Thailand's 'Deep South' over the past decade have been launched by a number of shadowy Islamic insurgent groups who aim to revive the independent sultanate of Pattani, which was incorporated into Thailand in early 20th century.
According to the Thai government, 4,000 people have been killed since violence broke out eleven years ago, but NGOs and other rights groups estimate the number of fatalities to be at least 6,000. The majority of deaths have been civilians.
In an effort to quell the insurgency, over 60,000 security officers have been deployed in the three southern border provinces of Pattani, Narathiwat, and Yala.
During yesterday's press conference, Gen. Prayuth reiterated that Thai authorities will not sit for negotiations until a ceasefire is achieved.
"We can talk to them in an official way, but we have to wait for all of them to [stop the violence]. Otherwise, it would be like in the past. They can't pressure us like what they did in the past," the general said.
According to a blogger on Deep South Watch who writes under the pseudonym Abu Hafez al-Hakim, insurgents in the south are divided over whether to participate in the government's peace dialogue.
"There has been serious debate among the movement circles whether it is to their advantage to talk to the military junta at this juncture or better to wait for a legitimate democratically elected government in 1-2 years time," he wrote on December 12, 2014.
The former elected government's efforts to organize peace talks with an insurgent group in 2012 failed to achieve any concrete gains, partly due to resistance from hawkish wings of the military who preferred to combat the southern rebellion with force.
Critics also point out that the process did not involve all of the secessionist cells operating in the region, and that former Prime Minister Yingluck Shinawatra's administration did not offer increased autonomy for the Deep South – a vital demand shared by many insurgent groups.
The peace talks ultimately broke down after mass anti-government protests paralyzed the central government in late 2013 and paved the way for a military coup on 22 May 2014.
January 4, 2015 marked the eleventh anniversary of the insurgent attack on security forces in Narathiwat province that is widely considered the trigger of the recent decade-long wave of insurgent violence.
According to the Southern Border Provinces Police Operations Center, the number of fatalities in the Deep South decreased in 2014 to 212 deaths, compared to 322 in 2013 and 326 in 2012.